Catfish
Music & Lyrics by: Bob Dylan
Performed by: Bob Dylan
Originally recorded: 1976
Lazy stadium night
Catfish on the mound.
"Strike three," the umpire said,
Batter have to go back and sit down.
Catfish, million-dollar-man,
Nobody can throw the ball like Catfish can.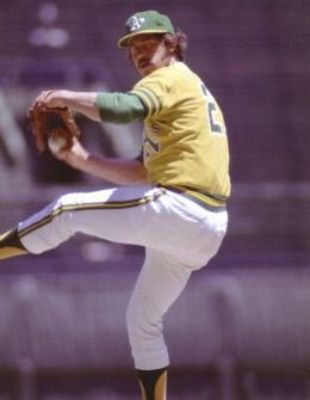 Baseball arrived in California in the late 1950's. Just a few years after Walt Disney had been told he was throwing his money away by building a theme park based on characters from children's movies, now Walter O'Malley of the Dodgers and Horace Stoneham of the Giants were being told they were destroying their teams by moving them to California when no other team was west of Missouri. They all ignored the critics and they all were right. Stoneham and O'Malley not only succeeded, they inspired the American League to move west as well. It started just a few years later with the expansion franchise, the Los Angeles Angels. The problem was the American League now had only one team on the west coast and no one else west of Kansas City. It made traveling logistics a nightmare. Enter Charles Finley, owner of the Kansas City Athletics. He saw an opportunity to get out of the empty stadium in Kansas City and bask in the California sun. Just as the Angels were dropped into the Dodgers' Southern California market as direct competition, Finley moved into the Giants northern California neighborhood as direct competition in 1968. There was only one problem. Oakland was not a baseball town. Football, hell yes. Al Davis had that market wrapped up tight. But baseball? The Athletics? They hadn't been relevant since the 1930's in Philadelphia. No one came out to watch the games. They would be sorry. Finley was growing something and it would soon blossom beautifully in an ugly stadium. The Athletics in Kansas City were terrible but their last team there was young and inexperienced. This team was growing up together, learning together, learning to play together, learning to fight together and learning to fight each other. The 1968 Athletics, the first in Oakland, featured a little used player named Tony LaRussa, as well as two catchers named Dave Duncan and Rene Lacheman (both would be coaches for Tony LaRussa throughout his managerial career in Chicago, Oakland and St. Louis. ) It also featured some young talent like Bert Campaneris, Sal Bando, Joe Rudi, Rick Monday, Dick Green and a powerful 22 year old Outfielder named Reggie Jackson. Playing in the Oakland Coliseum was tough. It was a gigantic stadium. The biggest problem with a gigantic stadium is that it looks even bigger when most of the seats are empty. It was so empty, quiet, almost peaceful on any given night that the A's players modified the Coliseum to the Mausoleum. The A's did transplant one All Star with them from Kansas City to Oakland: James Augustus Hunter. No one called him James, or even Jim, anymore. They all called him Catfish. 1968 was the year of the pitcher with Denny McLain winning 30 games for the eventual World Series Champion Tigers and Bob Gibson dominating (that's an understatement) the National League batters. Yet it was fairly widely accepted that no one could quite throw the ball like Catfish. He took the mound on May 8, 1968 and the place was dead, as usual. He could relax and just pitch. It wasn't like the crowd would notice anyways. There was only 6,298 people there to watch. Most of them were probably given tickets or were family members of players. This was the Athletics and the Twins. Some might have joked that it was barely Major League Baseball (although these Twins would win the first two American League West division titles when the league went to division play starting in 1969). Catfish opened the game with his, easy, lazy pitching motion. It sometimes was hard to tell if you were watching him warm up, pitch batting practice or actually facing a real batter. Hunter started off facing Cesar Tovar, Rod Carew (Hall of Fame) and Harmon Killebrew (Hall of Fame). It was an easy inning. Next inning was Tony Oliva, Ted Uhlander and Bob Allison. Another easy inning. Third inning was Jackie Hernandez, Bruce Look and Dave Boswell. Three more easy outs. He went through the whole lineup a second time. Nine Batters. 4 strikeouts, 3 flyballs and 2 groundballs. Six perfect innings. The 7th and 8th came and went. 6 batters: 4 more flyballs, 1 more groundball and 1 more strikeout. No walks, no hits, no errors, no nothing for the Twins. Now the 9th inning. The funny thing about perfect games is that at the end the pitcher is facing the bottom of the lineup, usually the weak hitters who didn't scare him before the game started. Now those last three hitters are the ones that are making the pitcher break into a cold sweat. The A's were up 4-0. John Roseboro pinch hit for Jackie Hernandez. No problem for Hunter. Ground ball. 1 out. Two more to go. Next up was Look and apparently that was all he did. He struckout looking at strike three. One more out. Hunter had to face Rich Reese, pinch hitting in the pitcher spot. He did the same as Look. He struckout looking. A perfect game for Catfish and the A's had their first identifiable moment in Oakland. Too bad there was no one there to see it.
Used to work on Mr. Finley's farm
But the old man wouldn't pay
So he packed his glove and took his arm
An' one day he just ran away.
Catfish, million-dollar-man,
Nobody can throw the ball like Catfish can.
Charles Finley was not well liked by the other owners. He was not well liked by the commissioner. He was not well liked by his managers and he was not well liked by his players. Most owners were "gentlemen" who had the best interest of the game at heart. They were interested in promoting the sport, not in promoting novelties. Finley didn't care. He had to find ways to get people into the stadium. When his operations were still in Kansas City, Finley begged the Beatles to play in Kansas City during their 1964 tour. The problem was they only had one open date and it was scheduled for a vacation to New Orleans. Finley was insistent and paid $150,000 for them to appear. No one had made that much for one concert before. Coincidence or not, the next album, Beatles For Sale, included a recording of a song the Beatles had performed for years (and McCartney still performs) called Kansas City/Hey, Hey, Hey. Finley's extravagance was worth it. At the height of Beatlemania the stadium was overflowing. He did other things that were not so well accepted by the baseball establishment. He replaced the traditional White Elephant logo of the Connie Mack years with a live donkey named Charley O (makes you wonder if he realized he was naming a jack ass after himself). After the year of the pitcher in 1968 he argued for more offense in the sport (ironic considering the size of his own stadium stifled offense). He argued for the introduction of bright orange or gold colored balls to make it easier for hitters to see the pitch. He argued for replacing the pitcher's spot in the lineup with a player being designated as only a hitter, not a position player, in the lineup. The designated hitter was born. His crazy ideas were not only spread to the league as a whole, he tried to find ways to draw attention to the A's. He installed a mechanical rabbit named Harvey that popped up behind the plate to present the umpires with a fresh set of baseballs when needed. The traditional blue and white Athletics uniforms of Jimmie Foxx, Mickey Cochrane, Al Simmons, Lefty Grove and Bob Johnson were transformed into gaudy canary yellow and kelly green. He paid bonuses to his players for growing unique mustaches, the winner clearly was Rollie Fingers. The A's grew into the best team of the early 1970's. As the league went to division play the A's dominated the west winning the division in 1971, 1972, 1973, 1974 and 1975 and winning the World Series in 1972, 1973 and 1974. Usually players are happy when they win. Not in Oakland. It was the most miserable dynasty in baseball history. Finley was not only known for his crazy ideas he was known for being cheap. The team had won three World Series and were paid less than teams who had not been competitive for over a decade. Hunter's contract was for $100,000, although it had a deferment clause. He would receive $50,000 pay and the other $50,000 would be invested as Hunter specified. As a father Hunter wanted to invest in his children's education so he told Finley after the 1974 season to put the $50,000 into a college fund. When Finley learned that he could not write off the deferred payment as he originally thought he handed Hunter a $50,000 check. Hunter was smart and so were his lawyers. when Hunter returned the check with instructions to immediately deposit the amount in an annuity, Finley returned the check again. Wasn't $50,000 the same regardless of how it got there? Not to Hunter's tax lawyers. Finley refused to follow the directions and Hunter sued for breach of contract. He won. The court declared that Finley had failed to live up to his end of the contract and therefore the contract was voided. The reserve clause in the contract did not apply because the contract did not exist anymore. James Augustus Catfish Hunter, the 1974 Cy Young Award winner (25-12, 2.39 ERA and 6 Shutouts) became what the owners had long feared: the first free agent in the history of baseball. Everyone wanted this guy because it was clear that no one could throw the ball like Catfish Hunter.
Come up where the Yankees are,
Dress up in a pinstripe suit,
Smoke a custom-made cigar,
Wear an alligator boot.
Catfish, million-dollar-man,
Nobody can throw the ball like Catfish can.
This was unheard of in any sport. An established star, at the absolute apex of his prime, with seemingly unlimited potential, available for any team without having to give something equal back to the competition. Until now the only way to get a player of this caliber was through a trade. Usually to get this type of player you had to give your direct competition an equally great player or some pretty amazing prospects. Now, everything had changed. Instead of a player begging the owners to give him a raise, the owners were lining up to beg the player to take their money. Every team threw money at him. Even the Padres offered to break the bank for him. Hell, Ray Kroc offered to not only make him the highest paid player in the history of sports, but to give him a chain of McDonald's franchises. The Red Sox, Orioles, Royals and Dodgers all tried to sign him. Hunter still assumed that Finley would make an offer and he would end up back in Oakland. It still had not sunk in that he could actually choose where he wanted to go. His lawyers set up meetings in their North Carolina offices and the small town was overrun by baseball executives seemingly throwing money at Hunter. The Red Sox thought they had the inside track, even having Ted Williams call Catfish to tell him how much he would like playing in Boston. One team had something that no one else had: Clyde Kluttz. Clyde had played in the majors for ten years, well played may be a stretch. He spent a lot of time on the bench. Between 1942 and 1952 he played in less than 700 games and played for five teams (including the Browns twice). After his final year in the big leagues Kluttz became a scout for the Kansas City Athletics and discovered Jim Hunter at a high school in North Carolina. Kluttz signed him to his first contract. Years later, working for the Yankees, Kluttz had the chance to bottle lighting twice. The Yankees had been flat out bad since 1964, one of the truly dark periods of the franchise, but they were building a nice team. They had young talent in the system with Thurman Munson, Roy White and a young pitcher coming up named Ron Guidry. It was not a tremendous collection of talent but the new Yankees owner was certainly willing to spend the money necessary to bring glory back to the pinstripes. Kluttz talked to Hunter and convinced him that the Yankees were a good fit. The money didn't hurt. It was a five year contract for $3.75 Million. It was the start of a new baseball world and not all of the owners were looking forward to it. Almost immediately players were trying to find loopholes in their contracts, clauses that would allow them to do what Catfish did. Few succeded.
Carolina born and bred,
Love to hunt the little quail.
Got a hundred-acre spread,
Got some huntin' dogs for sale.
Catfish, million-dollar-man,
Nobody can throw the ball like Catfish can.
Finley wanted his team to have character and characters. He encouraged the mustache brigade, loved the spectacle of the clashing uniform colors and also developed an entire (fake) back story for one of his players from North Carolina. The story was that this player, as a backwoods kid growing up in the south, ran away with a fishing pole one day and returned with two catfish under his arms. From then on he was known as Catfish Hunter. Problem was, Hunter was no dumb backwoods hick. He was an intelligent, well spoken, polite and well liked young man. Anyone who met him knew immediately that Catfish didn't quite fit the personality but by that time the name had stuck. Sure, he loved to go hunting, he often went with his brothers and several times invited Clyde Kluttz to go as well. Before his 1964 rookie season one of his brothers accidentally discharged a rifle taking part of Jim's foot with it. It was feared his career was over before it had started. He proved it was not.
Reggie Jackson at the plate
Seein' nothin' but the curve,
Swing too early or too late
Got to eat what Catfish serve.
Catfish, million-dollar-man,
Nobody can throw the ball like Catfish can.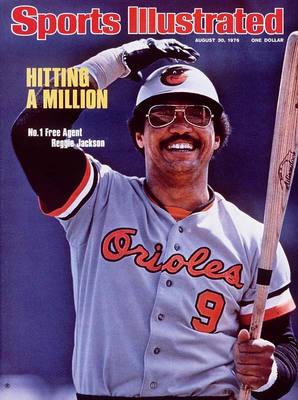 As Bob Dylan prepared material for what was his 1976 Desire album, released during one of his best creative periods, Reggie Jackson was looking for a way out of his Oakland contract. Jackson was easily the best hitter in the American League at the time and was the lynch pin of the Oakland offense. everything that happened centered around Reggie. The problem was that Reggie seemed to always be at odds with everyone. He and Mike Epstein had a clubhouse fight, not an argument, an actual fight with punches and everything. After the 1973 season he told his owner he wanted a raise or he wouldn't play in 1974. Finley was furious but Jackson, MVP of the regular season and the World Series, was irreplaceable. He made himself intolerable to Finley and he got himself traded to Baltimore. He didn't want to go to Baltimore so the Orioles made a deal with him. Play for one year in Baltimore and then you can go where you want. Earl Weaver was sure that one year in the winning environment of the Orioles would convince Reggie to stay. Reggie couldn't buy into the team philosophy of the Oriole Way. After a tumultuous 1976 season Reggie was ready to go. The Yankees were looking for help to get over the hump on the uphill journey to the summit of a championship. They had made the World Series in 1976, thanks greatly to Catfish Hunter and Thurman Munson, but were swept out by the Big Red Machine. Billy Martin wanted some offensive help to finally win it. He wanted someone used to winning and set his sights on a member of the A's winning formula to team up with Hunter again. He set his sights on Joe Rudi. The Yankees management wanted Jackson. "I don't want him I want Joe Rudi." Martin told them. He got Reggie. Someone once said of Leo Durocher that he "had a habit of making a bad situation worse". Jackson some how, intentionally or not, did the same in New York. Unfortunately Billy Martin had the same character issue. Immediately upon signing with the Yankees he gave an interview to Sport magazine. His comments were probably not intended to disturb the team but nearly all of the Yankee players, especially Munson, took offense and the relationship started badly. It got worse. The Yankees won the 1977 World Series but no one could stand Reggie. Munson refused to shake his hand after a home run, a very visible public snub. In 1978 Martin replaced Reggie in the field in the middle of an inning in a game known as "the Boston massacre". On national television Reggie went after Billy in the dugout. They were separated by players and coaches but it was getting ugly. Billy and Reggie were constantly at odds. (As has happened in the past, there is way too much information here for a short synopsis. Check back for future detailed posts about the Yankees 1970's dynasty, the early years of the Steinbrenner era).
Even Billy Martin grins
When the Fish is in the game.
Every season twenty wins
Gonna make the Hall of Fame.
Catfish, million-dollar-man,
Nobody can throw the ball like Catfish can.
Bob Dylan may have used some poetic exaggeration to make his point in Catfish (much as he did in classic songs like The Lonesome Death of Hattie Carroll and Hurricane) when he sang "every season twenty wins". Catfish's first year in the league was 1965. He went 8-8. That was followed by records of 9-11, 13-17 and 13-13 (the first year in Oakland) and 12-15. The records are not very impressive but wins and losses do not always define how you have pitched. Catfish was a special talent but, much like Felix Hernandez in Seattle, he was pitching for a very poor team that did not win many games overall. As the A's improved so did Hunter's win-loss ratio. In 1970 the A's were competitive and Catfish won 18. As Oakland went on their run of championships (starting in 1971 through 1974, Hunter's last one in Oakland) Catfish never won less than 21 and finished in the top five in Cy Young voting each year. His first season in New York was amazing. He won 23 and finished second in the Cy Young voting. It was all down hill from there. Dealing with shoulder issues, elbow issues and other health issues including symptoms of diabetes, the win totals started to drop. He was still good in 1976 as his 17-15 record helped the Yankees to their first World Series appearance since 1964 but the wins dropped to 9 in 1977. He was 12-6 in 1978 as the Yankees won their second straight World Series but 1979 was a horrendous 2-9 with a career worst 5.31 ERA. His health issues had finally caught up with him and Hunter retired with a career 224-166 record and 3.24 ERA. On top of that he was a five time World Series Champion and Cy Young Award winner. In 1987 Catfish Hunter was elected to the Hall of Fame along with long time Chicago Cub Billy Williams. In 1998 Hunter was diagnosed with ALS (commonly known as Lou Gehrig's Disease). In September of 1999 Hunter fell down a flight of stairs in his house and passed away shortly after. Hunter's legacy lives on in the Jim "Catfish" Hunter ALS foundation and the A's annually give out a "Catfish Hunter award" to the member of their team "whose play on the field and conduct in the clubhouse most exemplifies the courageous, competitive and inspirational spirit demonstrated by the late Hall of Fame pitcher Jim "Catfish" Hunter".