Joltin' Joe DiMaggio
Written by: Ben Homer and Alan Courtney.
Performed by: Les Brown and his Orchestra
Originally Recorded: 1941
The great DiMaggio was not always the great DiMaggio. Just as Ruth at one point was just a young punk pitcher, Gehrig was just the guy trying to replace
Wally Pipp
and much later Jeter was just the rookie Shortstop on the Yankees 1996 World Series team, DiMaggio was just a kid when he made it to the majors. DiMaggio's father was an Italian immigrant who worked as a fisherman. He moved the family to San Francisco's Fisherman's Wharf area when Joe was one year old. His father would come home stinking of fish. It was a hard living and the DiMaggio boys wanted no part of it. They had one driving ambition. They wanted to play baseball. Well, at least
Vince
did. Joe used it more of an excuse not to go fishing. When Joe was 14 he stopped playing baseball and got a paper route to earn some money. It wasn't great but it wasn't fishing. Vince and
Dom
never took a break from baseball and Vince was good. Vince was eventually signed by the San Francisco Seals of the Pacific Coast League. He encouraged Joe and let him know that he could be very good. It was clear Joe had talent but Joe would have to get serious to become great. He did. He played in playground leagues and Boys Club leagues and with Vince's help he caught the attention of the Seals. In 1932 as the nation was still struggling through the great depression, Charles Lindbergh was handing over a ransom in an attempt to save his baby's life, Connie Mack was selling off the pieces of his
great Philadelphia Athletics
teams and Babe Ruth was trying to prove he was still the best player the game had ever seen, a young Italian kid in San Francisco debuted with the Seals as a Shortstop. He played in only 3 games and had only 2 hits (one double and one triple) but he was good enough to get a contract for 1933. He quickly proved that he had made baseball his life. He took it very seriously and proved Vince right. He not only excelled, he was other worldly. While playing for the Seals in 1933 DiMaggio hit .340, drove in 169 runs, hit 28 homers and, almost unbelievably, hit in 61 straight games (the team played 187 games that year). Most would think that was an immediate ticket to the majors but minor league owners of the time could be fickle. Most of them had no affiliation with Major League teams the way we understand it today. If they had a guy who could bring that many people into the stadium they needed to get compensation in return for selling the contract. There was one more problem. During the off season of that great first year Joe was getting out of a cab late one night when his knee gave out. The story was that his leg had fallen asleep and when he put the foot on the ground it gave out, causing extensive damage to the knee. Major League teams disappeared like ghosts. No one would spend money for a player with a bum knee. The Seals held on to Joe for three seasons. After the first year of playing with Vince, the Seals sold the older DiMaggio to the Hollywood Stars and the two never played together again. Finally, after two more years of proving he wasn't just a flash in the pan, the Yankees took a chance on the kid who could hit minor league pitching but had never faced major league talent. The Yankees sent Infielder Doc Farrell, Pitchers Floyd Newkirk and Jim Densmore, Outfielder Ted Norbert and $5,000 to the Seals for the rights to negotiate with DiMaggio. DiMaggio was paid a salary of $8,500 for his first year in the majors.

Betty Bonney: Hello Joe, whatta you know?
DiMaggio: We need a hit so here I go.
Umpire: Ball one

Crowd: Yea!
Umpire: Ball two
Crowd: Yea!
Umpire: Strike one
Crowd: Booo!
Umpire: Strike two
Fan: Kill that umpire!
(snare drum shot. Slide whistle)
Fan: A case of Wheaties
Occasionally baseball scouts find gold mines of talent in a certain area. In the 1920's-1930's it was San Francisco. The Yankees already had two great San Franciscans on the team: their double play combination of Tony Lazzeri (secondbase) and Frankie Crosetti (Shortstop). As Joe prepared to make the long trek to the opposite part of the country for his first spring training in Florida the Yankees put Joe in contact with the two veterans. The two Yankee mainstays would carpool with Joe to Florida, each taking a turn to drive. There was no indication at that point that Joe would one day be "the greatest living ballplayer", he was just a rookie who wanted to make the team, riding with two living Yankee legends. The deal was that Joe could go along and they would all take turns driving. Typical of Joe, he said little, and typical of Lazzeri and Crosetti, they said little. It wasn't until it came to Joe's turn to drive that a conversation broke out. As it turns out Joe didn't know how to drive. Crosetti suggested they leave the kid along the side of the road. He tagged along anyways. DiMaggio, Crosetti and Lazzeri would be long time friends. The veterans taught Joe how to be a major league player, and more importantly, how to be a Yankee. They never said much. The three were notoriously silent. Once, as they sat side by side in a hotel lobby there was silence for nearly an hour until DiMaggio cleared his throat. Out of courtesy Lazzeri asked "what did you say?" Crosetti finished the conversation with "Shut up. He didn't say nothing." They returned to silence. His rookie season was nothing short of amazing. He hit .323, 44 doubles, 15 triples, 29 home runs, scored 132 runs and drove in 125. For a man replacing the great Babe Ruth the pressure didn't seem to effect him. The Yankees reached the World Series facing the New York Giants. There were questions of how this Yankees team would perform in the big time. This was not the Yankees of Herb Pennock,
Bob Meusel
and Babe Ruth. This was the new generation. It could have gone either way. It could have been the Yankees of the 1980's where there was endless talent but no titles. Or it could have been like the Yankees of the 1990's where there was endless talent and endless titles. It was like the latter. The Yankee dynasty of he 1920's was great but the Yankee dynasty that started in 1936 and lasted until 1964 was unbelievable and DiMaggio started it all. After the tremendous rookie year Joe asked for a raise. He wanted $17,500. He got $15,000 but the front office was clear that it was unhappy about this young kid demanding anything. It was unheard of at the time. A rookie demanding a raise? He was worth it. Actually, the Yankees got him cheap. Almost unbelievably DiMaggio improved on his rookie season. He hit .346 with 15 triples, 46 Home Runs, scored 151 and drove in 167. After another great World Series win Joe wanted another raise. He wanted $40,000. Didn't Joe know that Gehrig, the true great Yankee who never haggled over salary, didn't even make $40,000? Joe told the Yankees "It's a shame Mr.Gehrig is so underpaid." The ownership was unhappy. Joe held out for what he felt he deserved. Ownership was furious, and bitter and did everything they could to embarrass and break DiMaggio. They eventually settled on $25,000. He was vilified by the New York press. Who did this "damn dago" think he was? Didn't he know how lucky he was to be a Yankee? The fans booed him mercilessly. He was hated. He won them back. He led the team to two more pennants and two more World Series titles in 1938 and 1939. He was becoming a great player steadily and quietly.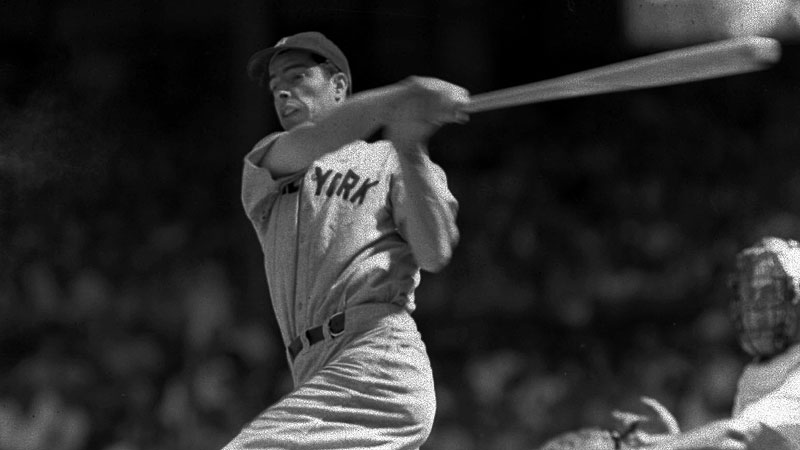 He started baseball's famous streak
That's got us all aglow
He's just a man and not a freak,
Joltin' Joe DiMaggio.
Joe, Joe DiMaggio
We want you on our side
The Yankees missed the World Series in 1940 as the Tigers clawed them off their throne. Joe started 1941 with an eight game hitting streak, going 19 for 36 (that's a .578 average). He was 0 for his next 10 but managed to reach base by walks in each of the three games he was hitless. From April 14 (opening day) through May 14th he hit .306, and although he had games where he failed to get hits, he reached base in all but two of the first 28 games. Not a bad start for most players but the legend has it that Joe was in a slump heading into the May 15th game in Cleveland. May 14th certainly was nothing to write home about. He was 0-3 (with a walk) as Cleveland's Mel Harder shut down the Yankees 4-1 in New York. When Cal Ripken was in the middle of his consecutive games streak he was often asked why he didn't skip a game. He often said that he didn't want to miss an at bat. "If I was hitting well I wanted to keep that going. If I wasn't hitting well I wanted as many at bats as I could get to try and straighten myself out." As Joe's "slump" reached 0 for his last 7 at bats the Yankees prepared to take on the White Sox in New York. It was a game Joe would have loved to forget. They lost 13-1, although Joe singled and drove in the only run for the Yankees. He had a double and a triple the next night, a single and a walk the next night, followed by a 3 for 3 night with a double, 3 runs, an RBI and a walk. The slump (0 for 7 can only be called a slump for the greatest hitters in history) was clearly over and what had started as one of the great starts in the history of the game turned into, arguably, the greatest offensive season in the history of the game. The hits kept coming. Many times a hitting streak is a grouping of 1 hit games. DiMaggio's had 34 of them. It also had thirteen 2 hit games, five 3 hit games and four 4 hit games. He hit .408 during the streak. What makes the streak even more amazing was how calm he appeared (although he was suffering from ulcers, chain smoking, drinking endless cups of coffee and couldn't sleep). Today, when a hitting streak hits the 25 game area you will see guys up there hacking just trying to reach and slap the bat on the ball. Their strikeout numbers usually skyrocket. Not for the great DiMaggio. During the streak he struck out a total of 5 times.
He tied the mark at forty-four
July the 1st you know
Since then he's hit a good twelve more
Joltin' Joe DiMaggio
Joe, Joe DiMaggio
We want you on our side
On June 3rd the world awoke to the news of the death of the beloved Lou Gehrig. That day the streak reached 20 and Joe went 1-4 with a run, an RBI and a strikeout. On June 6, an off day, the Yankees dedicated a monument to Lou Gehrig in centerfield, the first monument in what would grow to be known as monument park. On June 17 he went 1-4 and scored a run to hit in his 30th straight. People started taking notice. Thirty is a nice round number but others had done that. Tris Speaker had done it in 1912 with the Red Sox.
Charlie Grimm
had done it over two seasons in 1922-1923.
Sam Rice
hit in 30 straight ending the 1929 season carrying over to the 1930 season. Most recently,
Goose Goslin
had done it in the Tigers 1934 World Series season. Sam Rice had a separate 31 game streak during the Senators 1924 World Series year. Harry Heilmann between 1922 and 1923 hit in 32 straight during a .400 season. In Joe's 33rd game he went 4-5, scored three runs and drove in a run. This followed up his 32nd game where he had gone 3-3 with a Home Run, scoring twice and driving in 2.
George Davis
hit in 34 straight in 1893.
Hal Chase
did it in 1907 and Rogers Hornsby had done it in 1922. Most recently Heinie Manush had done it in the Senators 1933 pennant winning season. When DiMaggio hit 35 straight on June 22 it was time to take this thing seriously. Only 9 other players in the history of the game had done better at that time. George McQuinn of the St. Louis Browns had hit in 34 straight in 1938. Joe tied him on June 21. Fred Clarke hit in 35 for the 1895 Louisville Colonels of the National League. Ty Cobb had hit 35 in 1917. The great George Sisler had hit in 35 in 1924 and stretching it into the 1925 season. Gene DeMontreville of the old Washington franchise in the National League hit in 36 straight from 1896-1897. Joe kept hitting but he got into some trouble around game 38. He went into his last at bat of the game 0-3. He calmly pounded a double to extend the streak and kept slugging. Ty Cobb had hit in 40 straight in 1911. Joe tied him on June 28 going 2-5 with a double and scoring once. George Sisler had 41 straight in 1922. Joe tied Sisler on June 29, although the country, and probably the pitcher, held his breath when Joe was hit by a pitch. He was fine and so was the streak. Bill Dahlen of the Cubs had hit in 42 for the Cubs in 1894. Joe tied Dahlen in the second game of a double header on June29. There was only one person left ahead of him. Wee Willie Keeler had hit in 45 straight beginning in 1896 and stretching into the 1897 season. Keeler had a simple hitting philosophy. "Hit 'em where they ain't." DiMaggio followed the advice and tied Keeler on July 1. The Yankees had a double header that day. In the second game Joe went 1-3 with a run and an RBI to tie Keeler. From this point on, anything he did made the streak more uniquely his. He kept hitting. On June 6, in a Yankee double header, he hit in games 47 and 48 going a combined 6-9, with a double, triple, 2 runs and 4 RBI in the two games. The next day was the All Star Break and everyone wondered if the three day break from the grind of the pennant race would derail the groove Joe was in. It didn't. In the All Star Game, July 8, Joe went 1-3 with a double, a walk and a run as the AL won 7-5. On July 10 it was back to work and Joe was 1-2. On July 11 he hit in his 50th. It was a great game as Joe went 4-5 with a run, two RBI and a Home Run. On July 16 he hit in game 56 and went 3 for 4 with three runs, a double and a walk. It seemed like this thing would stretch forever.
From coast to coast that's all you'll hear
Of Joe the one man show
He's glorified the horsehide sphere
Joltin' Joe DiMaggio
Joe, Joe DiMaggio
We want you on our side
The 1941 New York Yankees were anything but a one man show. You can add the career numbers of the 1941 team and you will find an amazing collection of players: Six MVP Awards, Six Hall of Fame Players (Bill Dickey,
Joe Gordon
, Phil Rizzuto, DiMaggio, Red Ruffing and Lefty Gomez) and 80 All Star Appearances. The team won 101 games while still struggling to recover from the loss of Lou Gehrig. They got little production from Lou's spot as Johnny Sturm, at first base, hit only .239 in his only year in the majors. DiMaggio may have been the star of the team but the 1941 Yankees had names that would define this dynasty for the next decade: Rizzuto, Charlie Keller, Tommy Henrich, Spud Chandler,
George Selkirk
and Johnny Murphy
He'll live in baseball's Hall of Fame
He got there blow by blow
Our kids will tell their kids his name
Joltin' Joe DiMaggio
We dream of Joey with the light brown plaque
Joe, Joe DiMaggio
We want you on our side
It's funny to hear the uproar over the Hall of Fame voting that took place a few weeks ago. With numerous steroid era players hitting the ballot this year, people were livid that players like Craig Biggio, Mike Piazza and Jeff Bagwell were not elected on their first opportunity. One announcer on MLB Network Radio, who clearly favors Piazza, spent a week screaming that it was a travesty these men were not elected on the first ballot. He invited several voters onto the show then spent significant air time berating and embarrassing them over their votes. I am certainly not saying these three are not Hall of Fame Players (and in fact many of the people casting votes probably do not put in the research required to truly make a proper choice).Yet, I think we need to put the first ballot selection into perspective a little bit. DiMaggio first appeared on a ballot in 1945 (although he was still active, he was serving overseas in the military) when one person cast a vote for DiMaggio. This one vote was 0.4% of the ballots. His first real appearance on a ballot was 1953. He fell short of election to the Hall of Fame. He received only 44.3% of the votes, fewer votes than
Dizzy Dean
, Al Simmons, Bill Terry, Bill Dickey, Rabbit Maranville, Dazzy Vance and Ted Lyons. Dean and Simmons were elected that year. His next year of eligibility, 1954, saw him passed over again. Rabbit Maranville, Bill Dickey and Bill Terry were elected. Joe finished with only 69.4% of the votes. In 1955 he was finally elected along with Ted Lyons, Dazzy Vance and Gabby Hartnett. He received 88.8% of the votes. That means that after having five years following his retirement and three years of eligibility there were people who still felt DiMaggio was not a Hall of Fame Player. The year that he was elected he received votes on 223 of 251 ballots. Apparently there were actually 28 Baseball Writers who felt that three MVP awards, 13 All Star appearances, 10 World Series appearances (9 World Series victories), 2214 hits (despite losing three seasons in the prime of his career to World War II and several other partial seasons to injuries) and a .325 career batting average while never striking out more than 39 times in a single season, was not Hall of Fame material. Joe lived on in more than the baseball hall of fame. He is forever remembered in the major facets of the arts: music, literature and television and always by the best of the best. Ernest Hemingway's "Old Man" kept himself sane for hours by talking to himself about the great DiMaggio in "Old Man and the Sea". Simon and Garfunkel used Joe as an example of what our country had lost from the good old days when they sang "Where have you gone Joe DiMaggio? A nation turns its lonely eyes to you." in Mrs. Robinson. And finally, who could forget Cosmo Kramer stalking Joe at Dinky Donuts in an episode of Seinfeld or Fred Mertz's shocked reaction when Little Rickey asked him who Joe DiMaggio was? Betty Bonney was right when she said "our kids will tell their kids his name." She probably could have added a few extra generations onto that.
And now they speak in whispers low
Of how they stopped our Joe
One night in Cleveland Oh Oh Oh
Goodbye streak DiMaggio
The Yankees went into the July 17 game against the Indians with a seven game lead in the standings over the second place Indians. After winning 14 straight the team had lost on July 14 to the White Sox but started another streak. If he got a hit tonight he would have been given $10,000 from Heinz 57 to endorse their ketchup. He came up to bat for the first time and smashed a ball towards thirdbase. Ken Keltner was there. He made a spectacular back handed stop and threw to firstbase to retire DiMaggio. 0 for 1. Later in the game DiMaggio came up again. He smashed another sharp ground ball to third. Another hard hit ground ball. Another amazing backhanded stop by Keltner. Another out. 0 for 2. In his third plate appearance DiMaggio coaxed a walk. He would get one more shot. It could not have been more dramatic. It was the bottom of the 8th. The bases were loaded and it was a tight game. This was DiMaggio's time to shine. When the game was on the line DiMaggio always found a way to come through. Jim Bagby, who had replaced Al Smith with one out in the 8th, delivered a pitch. Joe caught hold of it and hit a screaming line drive towards shortstop. Lou Boudreau was right there and caught Joe's last chance for 57. The streak was over. It had lasted 56 games: 56 singles, 16 doubles, 4 triples, 15 home runs. The next night Joe started a new streak that lasted 16 games. In that 16 game stretch he had 29 hits, a .382 average and 10 multi-hit games. Although he had lost the streak at 56, he had reached base on a walk in the 0 for 3 night. When the second streak of 16 finished he had reached base in 74 straight games and had hits in 73 of 74 games. It was not until August 3, in both games of a double header, that he was kept off base in consecutive games during the 1941 season. He had reached base in 98 of the first 103 games of the Yankees season. By the time he was kept off base in consecutive games the Yankees were 11.5 games ahead in the standings well on their way to beating Pete Reiser, Mickey Owen, Pee Wee Reese and the Brooklyn Dodgers in the World Series.