What makes a Hall of Famer a Hall of Famer? Ask a hundred experts and you will likely get a hundred different answers. There are, of course, a few specific criteria a player, owner, umpire, broadcaster or contributor needs to meet before even being eligible for consideration.
First, the player has to have played within the last 20 years but must be retired for at least five years. The player will be eligible for 15 years as long as he gets a minimum of 5% of the votes. Anyone on the ballot 15 years without election is referred to the Veteran's Committee for consideration. Anyone receiving less than 5 % is also referred to the Veteran's Committee for consideration.
Second, they had to be an active player in at least parts of ten seasons.
Third, if they die during their career, they can be eligible for the Hall of Fame on the next ballot (assuming the ballot is more than six months after their death).
Finally, anyone listed on the baseball ineligible list (this would be players like the
Black Sox
, Pete Rose,
Hal Chase
,
Joe Gedeon
, etc) is not an eligible candidate.
To be elected, a player needs to receive votes on 75% of the ballots cast in any given year. For example, this past season there were 569 ballots cast. A player would have needed to appear on 427 ballots. The closest person this past year was Craig Biggio who spent his entire career with the Astros. He fell 39 votes short of the requirement.
The Hall gives very few guidelines or suggestions on what should be considered. It merely says that the voting should be based on their "record, playing ability, integrity, sportsmanship, character and contributions to the teams on which the player played". There are no automatic elections. A perfect game, a triple crown, a .400 season does not mean you get into the Hall.
So that still doesn't answer what makes a Hall of Fame member. There are differing opinions but here are some of the more common qualifications that people use:
If a player gets certain milestones they are generally considered a lock for the Hall of Fame: 3000 hits, 500 Home Runs, .300 lifetime average, 300 Wins, etc. This does not mean you have to reach one of these to make it but it has traditionally been considered your "get in free" pass.
If a player is the clear cut, best player at his position for his era. For example, Sandy Koufax and Bob Gibson were clearly the best pitchers of the 1960's. While Denny McLaine had a 30 win season and dominated the 1968 American League, over the length of his career he was not as dominant as that one season. Based on that Gibson and Koufax are in and McLaine is not.
If the story of a player's era cannot be told without mentioning them they should be in. For example, if you led your era in wins, average, Home Runs, etc over a ten year period you should be in the hall of Fame. Additionally, if you contribute heavily to the success of a team that has been the dominant team of the league you should merit significant consideration.
This year's voting has been one of the most controversial ever. No player was elected based on the ballot system and there were questions about how to handle the steroid era. That is a topic for another post. This is not about arguing for or against people to be enshrined. This article is about honoring the individuals who will be enshrined this year. So without further pause, ladies and gentlemen, here are your 2013 Hall of Fame inductees:
Hank O'Day: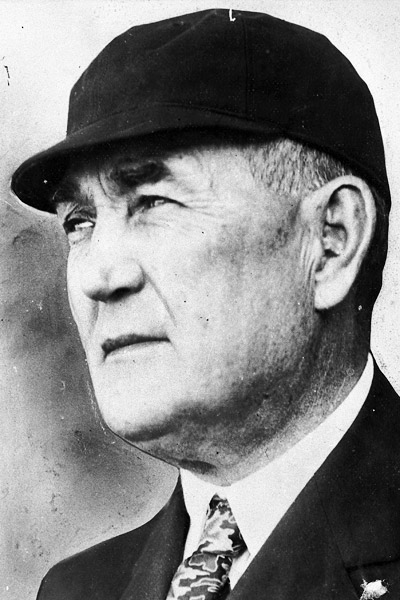 Photo of Hank O'Day Courtesy of ESPN
O'Day
pitched seven years in the National League and ended with a career 73-110 record. Clearly not Hall of Fame numbers and that is not the reason he will be joining the best of the best. His contributions to the game were as an umpire. Hank O'Day started umpiring in the National League in 1901, the same year the American League started competing with the senior circuit. He called games until 1911. In 1912 he was given the managing job for the Reds but finished only 78-76. He was replaced after one year and returned to umpiring for 1913. He got one more shot at managing with the Cubs in 1914, replacing
Johnny Evers
. Given Evers' notorious hatred for umpires you can imagine how Evers felt about an umpire taking his managing job. O'Day umpired in ten World Series (1903, 1905, 1907, 1908, 1910, 1916, 1918, 1920, 1923 and 1926). Honestly, with the success that he had and the respect he garnered from his contemporaries it is a surprise he had to wait this long to be enshrined. O'Day retired after the 1927 season. He passed away at the age of 75 in 1935, six days short of his 76th birthday.
If you had asked someone before 1919 how they thought the New York Highlanders (the early version of the Yankees) would do in an upcoming season you would likely have to wait for the laughter to subside to get an answer. The Yankees were owned by Frank Farrell and William Devery from the time the team moved from Baltimore in the early years of the American League. The two had done nothing to improve the team and although they had some future Hall of Fame players including Pitcher Jack Chesboro and the legendary Wee Willie Keeler, the Highlanders were the joke of the league. Devery and Farrell were more interested in what they could get out of the team financially and politically than they were in putting a competitive team on the field. Ruppert, meanwhile, was a former congressman who ran a highly profitable brewery and was trying to buy a baseball franchise. He had tried several times to buy the Giants as well as considering buying the Cubs. When Ruppert's friend
John McGraw
introduced him to Colonel Till Huston, who also wanted to own a baseball team, the two combined resources and purchased the Yankees for $480,000 in 1915. Ruppert and Huston set to the task of building a competitive team and they had the resources to do it. Someone who needed resources was the Red Sox owner Harry Frazee. Over the next few years the Yankees started to slowly build a wining team and by 1920, after the purchase of Babe Ruth and numerous other Red Sox players, they were legitimate pennant contenders. They would remain consistent playoff contenders long past Ruppert's days. The relationship between Huston and Ruppert soured (which is a topic for another day) and Ruppert bought out Huston's share in 1922. Ruppert was still the owner when he passed away in January of 1939 but during his time as owner of the Yankees he turned the American League's New York franchise from a joke into the most successful franchise in sports history. Under Ruppert, the Yankees won the World Series seven times (1923, 1927, 1928, 1932, 1936, 1937 and 1938). They would also reach the World Series another three times (1921, 1922, and 1926) but come up short. The General Manager, Ed Barrow, who was considered the architect of both the Red Sox dynasty and the Yankees dynasty in the early decades of the sport, was enshrined in the Hall of Fame in 1953. Somehow it took an extra 60 years for Ruppert to get there.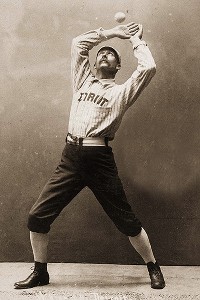 When Deacon White played there was no Hall of Fame. There were no All Star games. There was no World Series. There were just wins and losses. There was no OPS or WAR. People rarely focused on any statistics past hits, runs and whether your team won or lost. White played for eight different teams from 1871-1890 when statistics were kept by owners mostly as a way to determine how much they could cut a players pay from season to season. That being said, White played in a total of 1560 games over the 20 years of his career (many of the seasons were before the 100+ game seasons). Given the differences in the eras it is hard to compare his numbers to Mays, Mantle, Ruth, Cobb or even
Evers and Chance
so we will simply put them in context of his on times. White finished with a .312 average over 20 years and finished with 2067 hits. White also won two batting titles, led the league in hits once, total bases once, triples once and RBI three times. Unfortunately there has been a lot of complaints that White is being enshrined after all these years but n the context of White's time he was certainly one of the top players.
TRIVIA QUESTION:
The first class of Hall of Famers were elected in 1936. Five former players (one Shortstop, two Outfielders and two Pitchers) were voted in as part of the first class. Who were the five players inducted?
ANSWER TO LAST WEEK'S TRIVIA QUESTION:
Three pitchers have started the All Star Game for their respective league five times. All of them are Hall of Fame Pitchers. Lefty Gomez of the Yankees started five All Star Games for the American League (1933, 1934, 1935, 1937 and 1938). Robin Roberts of the Phillies started five All Star Games for the National League (1950, 1951, 1953, 1954 and 1955). Don Drysdale of the Dodgers started five All Star Games for the National League (Both games of the 1959 season, 1962, 1964 and 1968).