If you missed it, don't forget to check out the first article in the Rivalries Series:
Christy Mathewson vs. Three Finger Brown
To
Ty Cobb
, baseball was war. It was to be taken seriously. Like religion. It was a life and death struggle. It was dirt sprawling, fists flying, spikes slashing battle and anyone who didn't take it seriously would have to face Cobb's wrath.
To
Babe Ruth
baseball was a game. It was to be taken lightly and taken advantage of to the utmost. It was free swinging, ball launching, slow trotting, clowning and anyone who thought differently didn't matter because Ruth didn't notice anyways.
Ty Cobb was born into a well respected Georgia family and was brought up in luxury. His father was a school teacher and landowner. His relatives had fought in the Civil War, for the south of course, and led Cobb's Legion cavalry in General Lee's army. The Cobb's legion was legendary in the "Lost Cause" lexicon. They fought under General McLaw's Division of Longstreet's Corps. They fought at most of the major battles of the Army of Northern Virginia including Sharpsburg (Antietam), Fredericksburg, Chancellorsville and Gettysburg. The legion remained famous after the war and was the unit joined by Ashley Wilkes in "Gone With The Wind". The Cobb family has a county named after it. Cobb's father tried everything to get him to be a doctor, lawyer, soldier or anything but a ballplayer. Cobb left home against his father's wishes and promised him he would not drink alcohol, one of the major evils of the world.
Babe Ruth was born to a bar owner in Baltimore. There was little money for the family. Ruth skipped school, stole from the family cash register, got into fights. He did everything wrong and after one too many fights with his father he was declared incorrigible. Ruth was sent away to a reform school.
Ty Cobb came along at the perfect time for the game. At the turn of the century the National League was looking for someone to replace the aging stars, those first generation players, while the American League was looking for its identity. Cobb slashed his way into Detroit from the minor leagues, ready to fight the world, including the entire Tigers team. He drove his team to three straight World Series appearances in 1907,
1908
and 1909, the first AL team to do so. In
1909
his Tigers played in the first ever deciding Game 7 and lost. Cobb would never make it back to the Series. As great as he was, possibly still the best player in the history of the sport, he would fight forever and never get a World Series title.
Ruth joined the Red Sox at the perfect time for Babe Ruth. The Red Sox were set for a run of three World Series appearances in the next four years, winning all three. Ruth moved on to the Yankees and won another five World Series. His teams appeared in an additional three. Ruth made the World Series seemingly effortlessly.
Cobb did everything better than anyone ever. He hit better than anyone for more base hits and a higher average. He scored runs better than anyone. He stole home better than anyone. He could also hate better than anyone. He hated everyone. He was overflowing with that emotion. He withheld a certain type of hate for pitchers. They were the enemy. He would stare them down as he walked toward the plate. Glare at them. Scowl. He would tell himself "this poor son of a bitch has to face the great Ty Cobb." Then he would do what he wanted.
Ruth entered the league in 1914 as a pitcher, the worst of all people by Cobb's standards, and won two of the four games he appeared in. He had a near full season in 1915 and won 18 games and a World Series title. Not bad for a rookie. He followed that with a 23 win season and a second World Series win, including pitching all 14 innings of a 2-1 win in game 2. He would give up a first inning run and then throw 13 shutout innings. He pitched again in the 1918 World Series and threw a 9 inning shutout in Game 1. He pitched again in Game 4 and held the Cubs scoreless until the 8th. With one out the Cubs scored a run, ending Ruth's record of consecutive scoreless innings in the post season at 29. That would stand until the 1960's.
Cobb had no friends. The people that he called friends were usually more business associates than friends. They really didn't like him. He had few reasons to smile and he could care less.
Ruth was every one's friend. He had so many "friends" that he just stopped learning peoples names. He would play with Catcher Benny Bengough for 8 years in New York yet still referred to him as "that googles guy." He would give everyone he met a big "Hiya Kid!" regardless of age, social standing or how long he had known them.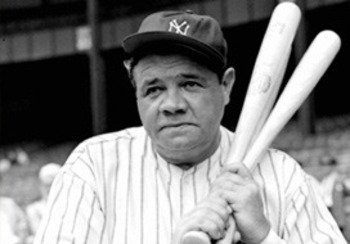 Cobb was vilified by the press. Everything he did had some sinister purpose by the view of the press. When he held out for more money, Tigers owner Frank Navin made him out to be a troublemaker. A greedy, ungrateful ruffian trying to bankrupt an honest business man. Cobb had to fight to get $5000 a year.
Ruth was adored. He could seemingly do no wrong. Cameras and crowds followed him everywhere. Ruth earned $52,000 a year with the Yankees in the middle of the depression era. Someone asked him if he felt it was right that he earned more than the President. Ruth said it was fine with him "I had a better year than he did, didn't I?" The president was Hoover so no one questioned that Ruth's year was better.
With the two complete opposites it shouldn't be hard to imagine that a rivalry would evolve and yet none of these reasons above sparked the rivalry (although with Cobb's insane drive to be the best, you can see where he would be angry). The rivalry came from the competing theories of baseball.
Cobb was from the "inside" theory of the game. Cobb's view of the game was to play for one run. Fight your way on base anyway you can. If that means getting hit by a pitch then you took one for the team. Once you got there nothing would stand in your way. Cobb would work with Sam Crawford to master the hit and run and the double steal. They would sacrifice themselves to advance a runner and score the one run then hold the other team. It was a strategic game to Cobb, won on the base paths by outwitting your opponent.
Ruth was from no real theory of the game. He walked to the plate, dug in his heels and swung. Although, we have a picture of the free swinging hitter as missing more than they connect (thanks to the Mighty Casey at the Bat) Ruth was a tremendous hitter, much more than just a Home run hitter. Ruth would end his career with a .342 average and would even hit .393 one season (and didn't win the batting title. Harry Heilman of Detroit hit .403).
Ruth's approach revolutionized the game. It took the attention from the station to station, hard slashing approach of Cobb, Speaker, Hornsby and Frisch and opened the door for the hard swinging, long ball launching bats of Gehrig, Foxx and Greenberg that would translate decades later into Aaron, Bonds, McGwire and Sosa. In the mind of Cobb, Babe Ruth, arguably the greatest player in the history of the game and probably the player that most revolutionized the game, ruined the national past time.
TRIVIA QUESTION:
Who was Claire Hodgson and what part did she play in the lives of Ty Cobb and Babe Ruth?
Answer to last week's question:
When Mathewson took over as the manager of the Reds, Hal Chase was his first baseman. Chase was long regarded as the best first baseman in the league and would likely have been considered Hall of Fame caliber, except for one major defect. Chase was also considered the most crooked baseball player in the league. Mathewson, long considered the most honest player in the league (his nickname was "the Christian Gentleman"), knew Chase was throwing games. Mathewson filed a complaint with the National League offices (this was several years before the Black Sox scandal). By the time the league's investigation started, Mathewson was overseas, serving in World War I, and obviously unavailable to provide testimony. Unable to prove the charges, the Reds released Chase, who was immediately picked up by John McGraw and the Giants. When Mathewson returned from the war, his managers job with the Reds was already filled so he became a coach for McGraw's Giants. Just a few months after Mathewson's return Chase was implicated in the investigation that led to the exposure of the Black Sox scandal. Chase was banned for life along with the eight Chicago players.