Don't forget to check out the first article in this series of player profiles:
Yogi Berra
.
More than 18,000 players have appeared in Major League Baseball games since the start of the league. Some players have short careers that last one at bat or one appearance in the field. Others have 20+ year careers. As I read more and more about baseball history there are certain players I find myself enjoying reading about more than others. It is obviously illogical since many of them retired, or in some cases passed away, long before I was even born. I have no first hand experience in watching them play but for whatever reason their personalities and perseverance strikes me above and beyond the other players I read about. Over the next few weeks I will be giving you short biographical histories*of some of these players. Some of them will be Hall of Fame players. Some of them will be players only casual fans may know. Regardless, I chose one player from each position for this series to explore. This week we will explore the First Baseman I chose for the series, the one that my regular readers probably knew was coming:
Hank Greenberg.
Hank Greenberg suffered through some horrible moments in his career. Every moment was a struggle. Even his most noble and lasting action was torn apart by a press that found reasons not to like him. Some have said this is the normal territory heroes tread, however, the general consensus was that Hank suffered quite a bit more because of his Jewish heritage. After all of that Greenberg remains one of the most under rated players in the history of baseball and one of my favorite baseball figures.
Early Days in New York
The Philadelphia Athletics were still riding high on their World Series Championship on New Year's Eve 1910-1911. While they were celebrating Sarah Greenberg was ensuring the future of baseball. Five minutes into the new year Sarah Greenberg gave birth to Henry Benjamin Greenberg. The Greenbergs were Romanian immigrants who settled in the Greenwich Village section of New York. The same Greenwich Village that would give birth to the career of Bob Dylan decades later. Similar to the story of Yogi Berra, Hank's father could not comprehend what good could come out of playing ball. Hank didn't care. It was all he thought of. He would spend all day at the ball field. No matter what time of year. Regardless of snow, rain, cold. Hank focused on all aspects of his game. Fielding, hitting, even sliding. He built himself a sliding pit to work on sliding like the major leaguers he read about in the papers. He was a great athlete all around. Tall for his age, he excelled at basketball. As a freshman in high school Greenberg made the varsity baseball team. His biggest problem was also his biggest attribute. He was a perfectionist. When he wasn't perfect he would get down on himself. If he struck out, didn't advance a runner, missed a shot, committed a dumb foul or made any normal everyday mistake he would get angry and frustrated. Then he would use that frustration to push himself harder. Like all young boys Hank wanted to be a Major League Baseball player. He was also aware of how difficult it was. Hank would spend hours with the neighborhood kids hitting balls until it was too dark to see anymore. His High School Basketball coach would later say "Hank never played games, he worked at them. He was not the natural athlete." Sharing that field with the kids was a local Irish policeman named Pat McDonald, who was also an Olympic Hammer Tosser. They shared the same field and the local kids were terrified of him. Often he would wind up to practice a hammer toss and would see one of those damn punks out of the corner of his eye and have to stop his throw. One day he saw Hank as they were both leaving the park and called him over. Hank froze. Terrified. This was not only a policeman, he was a very very large man. Hank approached him with caution: "Young man, I just came from watching the Yankees play and, by god, you can hit a ball better than
Lou Gehrig
." A compliment telling Hank he hit better than the man he idolized, especially coming from the man he called his mortal enemy, made Hank even more determined to be a big league ballplayer.
Playing for the Home Town Team?
Paul Krichell had been a scout for the Yankees for years. He had discovered Lou Gehrig, Tony Lazzeri and would later discover Phil Rizzuto and Whitey Ford. Greenberg's high school teammate Rudy Herzog caught Krichell's attention. Krichell went to the game to scout Herzog. Instead he saw something he had least expected. A tall first baseman. So tall and gangly it almost didn't make sense that he could have the coordination to swing a bat. Krichell liked what he saw but didn't say anything. He couldn't risk tipping anyone off to this amazing find. When he saw Lou Gehrig he had told the Yankees he had found another Babe Ruth. He may very well have told them now that he had found another Lou Gehrig. Krichell started to scout Greenberg. He and Hank went to see a game together. Hank asked the obvious question. If you have Gehrig why do you want a first baseman. Krichell quietly told Greenberg that Gehrig was washed up. "In a few years you'll be the Yankees' First Baseman." Greenberg knew better. He hoped to play for the Giants but he was getting offers from the Pirates, Nationals and others as well. Hank wanted to test his skills so he was able to line up some work as a semi-pro player, thanks to the help of Tigers scout Jean Dubuc. This small bit of help gave the Tigers the inside track and in September 1929 Greenberg signed with the Tigers for $9000 ($3000 for the season and $6000 signing bonus) with the caveat that Hank be allowed to attend college for four years and join the Tigers after the school year and full time after four years. A great student, Hank had a scholarship to attend NYU. Krichell upped his offer to $10,000 but Hank knew he would be stuck behind Lou Gehrig and knew he would never reach the big leagues. "That was the primary reason I signed with Detroit. It certainly was not the glamour of playing in Detroit, since I knew nothing about the town, nothing about the ballpark...It was my good fortune to sign with the Tigers because the Detroit ballpark turned out to be perfect for a right handed hitter and Detroit was a great baseball town.
The Long Road to Detroit
Greeneberg's father, although happy with the extra income that the Tiger's contract added to the household, still had doubts about Hank's future. He was worried that Hank would be done in a year or two and have no fall back. He insisted that Hank go to college. Hank agreed. So did the Tigers. "My contract with the Tigers had a provision that I wouldn't be farmed out any lower than AAA ball. But the Tigers permitted me to join them at Spring Training." Articles in Detroit started to pop up about the prospect at First base but when the season started, instead of heading back north for school, Greenberg was sent to the A Ball affiliate in Newark. Following in Gehrig's steps, Greenberg tried to fill the shoes that Gehrig had left when he had played in Newark for the Yankees. Greenberg waived the AAA level clause and got started. A young Jewish kid, far from home with great pressure and expectations for the first time Hank struggled and was optioned to Level C ball in Raleigh, NC. The south was not the most welcome place for a Jewish kid at the time and Hank felt more awkward and out of place. He continued to struggle and was hitting .151 when a pitcher on the team started to point out that he was hitting .155. The taunt ignited the competitive fire in Greenberg and got him hitting. Greenberg played 122 games for the 1930 Raleigh team and hit a total of 19 Home Runs with a .314 average. Not bad for a young kid who was supposed to be in college. His numbers were enough to get him called up at the end of the season and get some big league experience. "I got in one game as a pinch hitter against the Yankees in a game that was hopelessly lost. The pitcher was Red Ruffing and I was as good as out before I even reached the plate." Expecting to get some sort of playing time, Hank sat on the bench for the rest of the year. Growing more and more frustrated with every inning he was inactive, Hank could not wait for the end of the year. Finally in the bottom of the eighth inning of the last game of the year, Greenberg was told it was his chance. Standing up he hit his head on the roof of the dugout. Frustrated, self-conscious and now embarrassed Hank yelled out "I'm not going to play for this team." and stormed out. As a 19 year old kid Hank did not look long term. When he was sent to Spring Training 1931 he was designated a B League player, Hank then tried to invoke the clause requiring him to be at AAA or higher. Tiger Owner Frank Navin was not someone to be trifled with. Navin told Hank in a letter: "You were given a $9000 bonus to sign with the understanding you were to go to college for four years and play baseball in college...Instead you cut the four years entirely....we took you to Detroit so you could get acquainted with Major League surroundings and not play ball, thinking it might help you." The stay in B League with Beaumont lasted only 3 games. He was dropped lower to the III league and played the year at Evanston, IN hitting .318 with 15 HR. The next year he played the whole year in Beaumont. Greenberg often tried to downplay the anti semitism he faced. In one game he collided on the base paths with Zeke Bonura, an opposing first baseman. There was a near riot over a Jewish man colliding with a white man. Extra security was ordered for the next day. Despite the challenges, Hank hit 81 extra base hits (including 39 Home Runs) and hit .290 in his full year in Beaumont. With these numbers he would never need to spend another day below AAA.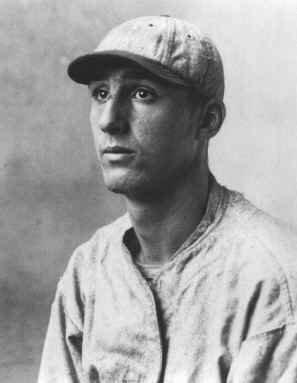 The Climb to the Near Top
The Tigers organization was not in the best of shape compared to other organizations when Hank joined them in 1933. Although the days of Cobb, Crawford, Schaeffer and Jennings were not that far in the past, the team had not reached a World Series since 1909. The team was not terrible but it was usually a 6th place team and out of contention. 1933 was no different, except that the future looked bright. The team had slowly brought in young players like Gehringer,
Owen
, Rogell, Jo-Jo White (nicknamed because of his distinct way of telling people he was from Georgia), Auker, Rowe and of course Hank. The team finished fifth in 1933, behind Joe Cronin and his Washington "Wrecking Crew". Hank had a solid rookie year. He hit .301, drove in 87 but hit only 12 Home Runs. The Tigers saw that the youth would serve them well. What they needed was some veteran leadership. They found a way to deal for it (which was closer to stealing it). On 12/12/1933 they traded Catcher Johnny Pasek and $100,000 to Connie Mack's A's and in return they got one of the greatest Catchers in history in his prime: Mickey Cochrane. (Cochrane was so popular that a coal miner in Oklahoma, nicknamed Mutt, would name his son Mickey after the Catcher. Cochrane's namesake would go on to become the legendary Yankee who replaced
Joe DiMaggio
in center field. You might have heard the name Mickey Mantle once or twice.) The Tigers weren't done. Coming off their World Series appearance the Senators Clark Griffith could not afford to give raises to the players who had earned them. The result was he traded
Goose Goslin
to the Tigers for outfielder John Stone. The Tigers were now solid everywhere. With Cochrane in the lead and Greenberg in the clean up spot, the Tigers roared in
1934
. The '34 Tigers started fast but by May 10 they had fallen to 6th. Hank was hitting only .226 but things were about to change As the Yankees learned what life would be like without Ruth and the Senators struggled to replicate their magical pennant of the previous year, the G-Men (Greenberg, Gehringer and Goslin) started an assault and Schoolboy Rowe, Eldon Auker and Tommy Bridges blew people away from the mound. The Tigers climbed to the top and clawed their way to the American League pennant. Greenberg became a beloved player in Detroit based on this year alone. He hit .339, hit 63 doubles and 26 Home Runs and drove in 139 RBI. The Tigers faced the famous "Gashouse Gang" Cardinals in the World Series and Hank was taunted terribly by the Cardinals, most viciously by Dizzy Dean. Dean repeatedly yelled to Hank "Hey Mose" referring to his Jewish heritage. Dean yelled to another Cardinal pitcher "Throw him a pork chop. He can't touch it." Hank struggled in the series and was devastated by the disappointment. Dean even yelled to him "Hey Mose, come on into our clubhouse and get your meal money. You're the best player we got." The series went seven games, although the Cardinals routed the Tigers in a feisty game 7. The Tigers were angry at the loss.
Reaching the Top and Becoming a Hero
During the 1934 pennant race, which was still tight at the time, Hank had to make a serious decision. The baseball season, designed decades before, did not take into consideration any holidays. Baseball was non-denominational in theory. In 1934 the Tigers needed Hank for every game and every at bat. Hank had to make a choice of his own. With his team in a pennant race the Jewish Holiday of Rosh Hashanah approached. Uncertain of how to approach the problem, Hank played on a holiday when all are supposed to rest and reflect. The controversy erupted. How could he be a Jewish hero when he defied his religion. Rabbi's around the country defended him but his parents were furious. Even worse, the holiest holiday, Yom Kipur, was quickly approaching. Hank had little to think about. While he could defend playing on Rosh Hashanah there was no wiggle room on this. He sat out. His teammates were worried but they respected his decision. Hank's decision was heralded and he set the standard for all who followed.
Hank made 1935 his own personal answer to the taunting of Dean from the previous year's World Series. Greenberg won his first MVP award hitting 46 doubles, 36 Home Runs, driving in an amazing 170 and hitting .339. In July Hank was on pace to match Babe Ruth's Home Run record but his focus was always Lou Gehrig and the RBI record. His 170 was well better than anyone in the league. He put up tremendous numbers. Even better, the Tigers won the AL pennant again. Their opponents this year were the Chicago Cubs. Hank again suffered torment from the NL bench. "They were all on me with 'Jew this' and 'Jew that'." It got bad enough that umpire George Moriarty stopped the game and told the Cubs to stop. Cubs first baseman
Phil Cavaretta
remembered "the language was pretty rough. Detroit was on some of our players. We tried to retaliate." Cavaretta does not appear to have joined in the yelling though he did say some of the things that were said should never be printed. Greenberg hit a Home Run in Game 2 and was hit by a pitch his next time up. While on first base, Charlie Gehringer lined a base hit and Greenberg decided he would score no matter what. He hit third and turned for home. Waiting at the plate was Gabby Hartnett with the ball and when the two collided Greenberg broke his wrist. It swelled up over night and he was done for the series. He watched from the bench as the Tigers won their first World Series.
The next season was a disaster as well. In the 12th game of the year, a collision at first base was all it took to break the same wrist and make the year a wash. Hank trained hard, harder than ever if possible, and came back with a vengeance. Always a fan of Gehrig, Greenberg held himself to the Iron Horse's standards. Greenberg idolized Gehrig and loved the chance to play with him. Both naturally shy men, Greenberg would always say hello to Gehrig when they traded positions at first base. Gehrig never responded. Feeling shunned Greenberg stopped saying hello. The next inning Gehrig asked him "You didn't say hello to me last inning. Are you mad at me?" In 1937, Greenberg did more than say hello to Gehrig's record 184 RBI for a season. He chased, it clawed at it, fought it and craved it all year. He ended the year with 183 RBI and 40 Home Runs. "1937 was, personally, my best year. I say this because ballplayers appreciate that runs batted in are all that's important to a ball club." He was just warming up because 1938 would be Hank's big year.
It was clear by now that Hank was head and shoulders (literally) above every other first baseman and maybe every player in general. With the exception of DiMaggio there were few who could challenge him. 1938 would prove it. It quickly became clear that Hank was ahead of Babe Ruth's single season Home Run pace and as the summer moved on the press started to believe that someone might actually be capable of catching the Babe. The pressure Hank felt was comparable to the pressure that Maris would face in 1961 but the attention was possibly even more focused. In the era when nicknames were a must Hank's Home Runs gained him the nickname of "Hammerin' Hank". In Detroit at the time two of the biggest personalities were Henry Ford and Father Charles Coughlan. Ford was allegedly an Anti-Semite and Coughlan was vocally an anti-Semite. In one of the most ironic twists of fate, the two were Tigers fans meaning they were cheering for the "Hebrew Hammer", another of the many nicknames Greenberg was given. Hank certainly faced attention for his religion. "Ben Chapman played for the Yankees. He was a genuine Jew-baiter. Whenever he would have a bad day in the outfield the Jews at Yankee Stadium would get after him because he had made remarks about Jews...I knew and still know that men like Ben Chapman, and there were a lot of them, hated my guts and resented my success all the more because I am a Jew." As the year progressed Hank kept pace with the Babe. On August 1 he was still ahead of the pace and the attention became more intense. The reaction was various. Some were elated. Some were angry. Some were skeptical. Some thought he could do it because he was just too damned good not to. Some thought he couldn't because the anti-Semitic pitchers in the league wouldn't give him the chance (he would walk a carer high 119 times). "What if I do break it? It will be just like the guys who flew the Atlantic after Lindbergh. The Babe was the first to do it." At the end of August he had 46. Still ahead of Ruth. An early September slump put him slightly behind but not out of it. He kept hitting and was followed closely by Jimmy Foxx for most of the year. There has always been a theory that pitchers were avoiding the plate with Hank because he was Jewish. Hank never felt so. He felt that the pressure on him was equally on the pitchers. They didn't want to walk him but the nerves caused them to miss the plate. He also felt that having young players called up for the end of the season hurt. He felt some off these pitchers were wild and unused to the focus. The numbers show that in the last month of the year, as he chased the record, he walked 28 times. In the earlier months of the season, well before the focus of the race was intense, he walked 20-23 times per month. Not much more. In the end the dramatic chase ended with 58 Home Runs, two shy of Ruth. Despite all that, the Tigers would finish in 4th and Mickey Cochrane would lose his job.
1939 was worse, with a fifth place finish. The Tigers needed something to change their fortunes. They approached Hank Greenberg, one of the best players in the game, with the idea of switching positions. How would the player feel about moving to Left Field. Left Field? The Tigers wanted young first baseman Rudy York to take over there and the Tigers could not afford to lose Hank's production. So Hank did it. What Michael Young has been lauded for doing when he helped the Rangers by switching positions to help the team, Greenberg did in the 1940 season. How did he do? He led the league with 50 doubles, 41 Home Runs and 150 RBI. He also scored 129 and hit .340. He won his second MVP (the first player to win an MVP at two different positions) and led the Tigers to the World Series. The Tigers lost to the Reds in seven games. "What a disappointed lot we were coming back from Cincinnati on that train, losing that final game after a long hard season." With the continent of Europe engulfed in war and fears that the United States might be dragged into it, Greenberg registered for the draft on his way home to New York. It would be an important part of his legacy.
War Time Hero
In January of 1941 Greenberg's draft number was called. He was sent for a physical and, amazingly, he failed. It was not yet war time and the army could still afford to be selective with who served. The reason he didn't pass: he had flat feet. His poor arches were enough to have him disqualified from service. There was an immediate and angry backlash. While others were being sent for basic training a professional athlete, capable of winning an MVP, was not fit for wartime duty. The assumption was that Greenberg had bought his way out of the army. Greenberg voluntarily submitted himself for a second physical with another doctor and this time he passed. After 12 games of the 1941 season Greenberg was off to the army. This was still pre-Pearl Harbor so there was little chance of combat. Hank put in his time and shortly after he was inducted a law was passed limiting the drafting age at 28. Hank, at 30, would have been exempt. On Friday, December 5, 1941 Hank was discharged from the army. He returned to New York for a restful weekend. It was a nice one day weekend. Hank thought of how he would need to get back into playing shape and planned out his exercise routine. Then Sunday everything changed. December 7, 1941. Hank knew exactly what he needed to do. "I'm going back in. We are in trouble and there is only one thing to do - return to service. I have not been called back. I am going back of my own accord." He was the first player to volunteer for service. Hank was first stationed in Ft. Worth, TX. His room mate during his stay there was none other than actor William Holden.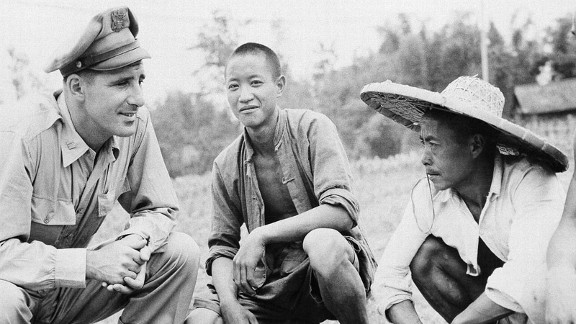 Not satisfied with remaining state side, Greenberg requested a transfer closer to the action. He served in the air force and was stationed in India. He saw little combat but was in several moments where he "didn't wonder whether or not I'd be able to return to baseball. I was quite satisfied just to be alive." On June 9, 1945 Greenberg was discharged he had now missed all of three seasons and parts of two others in the prime of his career. Now he was trying to do what no one had done before. Skip nearly five years and return at a high level of play.
The Hero Returns
Hank returned to the Tigers' lineup on July 1. The Tigers had won the day before putting them a game and a half in front of the league. With DiMaggio, Feller and Williams still in the service there was no reason for anyone to believe the Tigers couldn't stay there. This was any one's year for the taking. Greenberg took the field in left. "In my first game back, on July 1, I came out in front of 55,000 people, the largest crowd of the year in Briggs Stadium. Everybody was cheering like mad. After four years in the service, the greeting was nice, but it didn't matter all that much to me. I was just glad to be back alive. I just went out there to do my job. I went right back out to left field. We were playing Philadelphia in a double header and I hit a home run in the eighth inning of the first game."
Greenberg was able to play in 78 games that year and hit .311 with 13 Home Runs and 60 RBI. His most important hit won the pennant. With the pennant on the line and rain pouring down on the last day of the season Greenberg stepped to the plate and launched a Grand Slam to send the Tigers back to the fall classic. Even better, the Tigers would face the Cubs. While Hank had missed the end of the 1935 World Series against the Cubs because of his broken wrist, he was excited to get another chance. Hank played well but he was blamed for allowing the series to reach the 7th game. With runners on base Hank went to field a ball hit to left. In an odd change of events, the type that would normally go against the Cubs, the ball hit a sprinkler head and bounced over Hank's head. It led to a Cubs win and a Game 7. What was worse, Hank injured his wrist again and it looked like he would miss the crucial game 7 again. The Cubs had their MVP Hank Borowy, a new addition from the Yankees, on the mound for Game 7. Greenberg went to batting practice once but really couldn't even grip the bat. The Cubs didn't notice. Maybe they were too entertained by the ruckus in the crowd. Some crazy Cubs fan had brought a Billy Goat to the game and was arguing with security who were trying to escort him and the goat out. The fan cursed the team and it seems to have taken effect immediately. The Tigers started the game with three straight singles and a run. That brought Hank to the plate with two on, no one out and a one run lead already. This would be the time for the big man to swing away. The Cubs pulled the infield back hoping for just a fly ball at worst. Instead Hank laid down a bunt. Something no one saw coming and the Cubs seemed to unravel. Four more runs and the Tigers' second World Series title followed and the Cubs have not been back to a World Series since.
Playing for Bing
Hank's 1946 season was a mixture of success. He was able to play 142 games and hit 44 Home Runs but the team fell badly and Hank had only a .277 average. With many of the older players like Gehringer, Auker and White gone it was time for the Tigers to rebuild. They did what was unthinkable just a year and a half after the conquering hero returned. They sold his contract to Pittsburgh for $75,000. Hank would not dream of playing in Pittsburgh. The team was a joke and what the hell did he know about National League pitchers, ball parks or umpires? He was ready to retire. The problem was the Pirates needed him. The team had recently been purchased by, among others, Bing Crosby who owned 25% of the team. The team had not been to a World Series since 1927 and had very few seasons where they were competitive. When fans learned that the new ownership was willing to go out and get a player like Greenberg, the team sold $400,000 worth of advanced tickets. The ownership begged him to play one more year. Bing wrote him several letters begging him to play and the Pirates GM met with Hank repeatedly to talk him into it. Fate has a way of putting people where they are needed most. Hank agreed and it was a good thing he did. This was Jackie Robinson's first season in the major leagues and when the Dodgers came to Pittsburgh for the first time several Pirates players tried to get to Jackie. In a close play at first Hank and Jackie collided. It was not a dirty play by either. It was just part of the game. A little later as Hank covered first and Jackie was a base runner, Hank casually asked "I didn't get a chance to ask if you were hurt on that play." Jackie said he was fine and Hank told him not to let the haters get to him. He told him "keep your head up. You're doing fine." Hank also invited Jackie to dinner after the game. Jackie declined thinking it would put Hank in an awkward position but he let several people know how important that interaction was for him. Hank's kindness came at the right time Hank's kindness also helped mentor a young Ralph Kiner in the early part of his career. The young Kiner was struggling and the Pirates were concerned he might not make it. Greenberg had insisted on a clause in his contract that he not have a room mate on the road. He waived that clause and took Kiner under his wing. After one year in Pittsburgh Hank officially retired and had no idea what was next.
Moving on Up
Just as fate put Hank on first base to encourage Jackie, in the World Series that year fate sat him next to the man that would launch Hank on the second career of this life. He took his seat next to Bill Veeck, former owner of the St.Louis Browns and a man looking to take over a new team. The two hit it off, had similar views on the game and when Veeck bought the Cleveland Indians he brought Hank along with him. Hank started by running the farm system and moved up to General Manager. While General Manager Hank shocked the Cleveland Press by firing fan favorite manager Lou Boudreau and hiring
Al Lopez
as the manager. All Lopez did was lead the Indians to a World Series in 1954.
Veeck moved on and bought the Chicago White Sox and eventually brought Greenberg with him. Hank, in turn, brought Lopez with him to Chicago and the team again reached a World Series, though they never won the whole thing.
Possible Owner
Many times at the winter meetings while Hank was the GM, the topic of shifting teams came up. Hank made the suggestion that the league explore the west coast. He was laughed at. Clark Griffith, owner of the Washington Senators, told Hank "It's cold and it's damp out there." Griffith had pitched in Portland in 1905 and had not been west since. Griffith decided to move to Minnesota instead. When the league was forced to expand in 1961 they were originally going to give a team to Washington (to replace the now Twins) and Toronto. At the last minute Hank brought in some financial power and convinced the league that baseball in Southern California, competing with the NL Dodgers, would work. The league looked at his plan and agreed. Then his financial backers backed out and Hank was left without a team. Instead Walt Disney convinced Gene Autry to buy into the team and the Los Angeles Angels were born.
The Toughest Fight
Hank was not broken up terribly about missing out on the team. Greenberg had a great life. He wisely invested his money. He had been elected into the Hall of Fame in 1956 (seriously, it took him nine years to make the Hall of Fame?), he was happily married, had a wonderful relationship with his kids and was happily retired. Greenberg became known as a Jewish legend, an idol of the religious community, although he never truly identified with the Jewish religion. He understood the good that came out of this connection but he never played up the fact that he was Jewish. Because of the legendary status he had attained throughout the years he was approached by Ira Berkow to work on an autobiography that would eventually become "Hank Greenberg: The Story of My Life". In 1985 Hank started to have some pains in his leg. At first he ignored it but after a while decided to get it checked. It was cancer and it was spreading. Few knew that Hank was suffering. He was notoriously a private person and he felt that this was something he could fight and beat. Even Hammerin' Hank could not beat this. On September 3, 1986 the Tigers finished a series with the Seattle Mariners. They blew a two run lead and lost when Ken Phelps hit a bottom of the ninth Home Run to defeat the Tigers. Less than twelve hours later, at 8:50 A.M., the Tigers organization had an even bigger loss. Hank passed away on Thursday, September 4, 1986. At his prayer service Walter Matthau, the great comedic actor, was one of the speakers. He told his favorite story of Hank. According to Matthau when Hank was in the army a drunken sailor was looking for a fight and felt he would pick an "easy target". The sailor yelled out "Anybody here named Goldberg or Ginsburg? I'll kick the livin' daylights out of him." Hank stood up, all 6'4 of him, and said "My name is Greenberg." The sailor looked at him and thought about it for a second. "I didn't say nothin' about Greenberg. I said Goldberg or Ginsburg." Hank had already told Matthau this story was false. Matthau told him "I don't care, I'm going to continue to tell the story anyways."
*This is not intended as a full biography and due to space I have done my best to summarize the life of the players in this series. For further information on Hank Greenberg please check out:
Videos:
Ken Burns Baseball
Websites:
http://www.baseball-reference.com/
http://www.baseball-almanac.com/
http://sabr.org/
Books:
Hank Greenberg: The Story of My Life
By Hank Greenberg and Ira Berkow
Al Lopez: The Life of Baseball's El Senor
By Wes Singletary
Hank Greenberg: The Hero of Heroes
by John Rosengren
Hammerin' Hank Greenberg: The Jewish Babe Ruth
by Adam Pfeffer
Sleeper Cars and Flannel Uniforms: A Lifetime of Memories from Striking Out Babe Ruth to Teeing It Up With the President.
by Elden Auer with Tom Keegan
The Gashouse Gang: How Dizzy Dean, Leo Durocher, Branch Rickey, Pepper Martin and their Colorful, Come From Behind Ballclub Won the World Serie's and America's Heart During the Great Depression
by John Heidenry
TRIVIA QUESTION:
Mentioned in today's article was Bing Crosby's ownership of the Pittsburgh Pirtates. Bing partnered with future Seattle Mariners owner Danny Kaye in the movie White Christmas but his more famous partner was Bob Hope. Hope also owned a Major League team. Who was it and on what classic television show did his ownership play a part in an episode plot?
Answer to Last Week's Trivia Question:
Congratulations to Hope on Answering Last Week's Question Correctly.
The Yankees have retired the number 8 twice. Catcher Bill Dickey originally wore the number 10 in his rookie 1929 season. From 1930-1946 he sat behind the plate with a number 8 on his back. Yogi wore the number 38 for the 1946 season. He then switched to number 35 for the 1947 season. Beginning in 1948 Berra switched to to the number 8.