"Whatever you do, don't come home a failure."
This was the advice he received from his father as he set out on his career. His family was a famous family in the history of Georgia and baseball was definitively not the profession for the son of a respected, well-to-do college professor.
He certainly had not failed. He played two years in the minor leagues and 24 in the majors. Even today he ranks among the highest in the all time stats lists: 4189 hits (2nd all time), 2246 runs (2nd all time), 724 doubles (4th all time), 295 triples (2nd all time), 1938 RBI (8th all time), 897 Stolen Bases (4th all time).366 lifetime batting average (highest of all time). In the first Hall of Fame ballot he received votes on 222 of 226 ballots. When he died, just five months short of his 75th birthday, he still swore he could hit .300 against the pitchers at that time.
26 years after leaving home to prove to his father that he could make his family proud by playing a child's game for money, Ty Cobb sat at his breakfast table reading the newspaper. It was Tuesday, October 15, 1929 and he instinctively turned to the sports page to see the results of yesterdays game. It confirmed what he expected. The Philadelphia Athletics had beaten the Chicago Cubs in 5 games, including a Game 4, 7th inning rally that saw them score 10 runs and overcome an 8-0 deficit. This team was unstoppable. Jimmie Foxx, Al Simmons, Mickey Cochrane, Max Bishop, Mule Haas, Bing Miller, Lefty Grove, George Earnshaw. This team was built to win...and they did. They just did it one year too late for Cobb.
The decision to sign a contract with the Athletics was a difficult one. Even today he is synonymous with the Detroit Tigers and most people forget he ended his career as an Athletic. He was there for the glory days of the Tiger organization. More accurately, he
was
the glory days. Cobb and Sam Crawford terrorized the American League for the first decade of the league's existence. They reached the World Series three years in a row.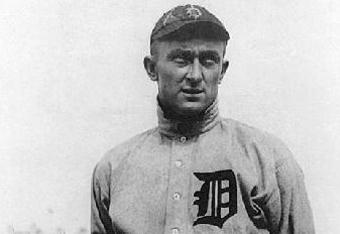 In 1907 they lost to the Cubs and he hit .200 as his team became the first ever to be swept in a Series. 1908 saw a second appearance in the World Series and another loss to the Cubs. This time no one could call him a failure. He hit .368 in a five game series but still no championship. The Cubs fell off in 1909 but the American League was still chasing the Tigers. They became the first American League team to reach the World Series three years in a row and they played the Pirates. It was Cobb vs. Honus Wagner. The hated vs. the beloved. The devil vs. the baseball god. The fan's dart board vs. the fan's favorite. Today's equivalent of Barry Bonds vs. Cal Ripken.
1909 was a vicious, hard fought, bloody battle. Anger and chaos ruled that year. At one point Cobb was on first base and yelled to Wagner at shortstop "Look out krauthead. I'm coming down on the next pitch." Cobb took off with the pitch and Wagner was there to cover. Depending on the version you believe, Cobb spiked Wagner, or Wagner spiked Cobb or Wagner tagged Cobb out by punching him in the face with the ball. Cobb denied any of this happened. It was a tense, exciting World Series and for the first time ever it went to a final deciding game 7. The hype was immense. The pressure was almost unbearable. The result was a let down. Pirates 8, Tigers 0 and the Tigers were the first team to lose three straight World Series.
He had spent 22 years in blue and orange with an old english D on his hat. Then came the accusations, the shame. He had been no stranger to controversy but this was different. Dutch Leonard, a marginal pitcher at best, had ruined his reputation over night. The sport had weathered the storm of the Black Sox scandal and was regaining the passionate fans. Then Leonard fired a cannonball into the baseball world. According to Leonard during a late season meaningless game between Cleveland and Detroit in 1925 there was an agreement between Leonard and Cobb from the Tigers and Tris Speaker and Smokey Joe Wood of the Indians to throw a game the Tigers way. It would help the Tigers jump up to the first division and get a cut of the post season earnings.
Kaboom! Leonard fired the shot. Cobb, Speaker and Wood denied it. Leonard insisted. Commissioner Landis suspended them all pending an investigation. Leonard insisted. Landis demanded proof. Leonard claimed he had letters from Cobb and Wood. Cobb was indignant. Landis demanded Leonard show up and testify and give proof. Leonard never showed. Cobb demanded that he be cleared. The owners asked Speaker and Cobb to quietly walk away. Nothing more would be said of the incident but they were done.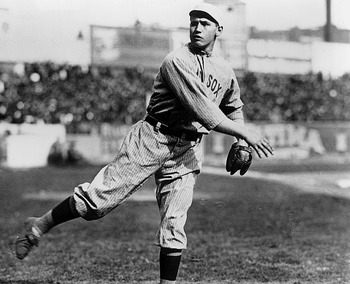 (Smokey Joe Wood seen here in 1912 with Boston, was accused of throwing a game in 1925 along with Tris Speaker and Cobb while Woood was a member of the Indians.)
Cobb didn't do anything quietly and he screamed to the world that he was wronged. It didn't matter to the Tigers owner Frank Navin. Cobb was done as a Tiger and he was free to sign a contract with anyone crazy enough to take him. No one thought Philadelphia was an option. Cobb had what at best could be called a hate-hate relationship with the city but Connie Mack was building a strong young team and wanted some veteran leadership.
1927 was intended to be the rise of the Athletics dynasty. The Philadelphia phoenix rising from the ashes of the continuing disaster that was the fire sale of talent from 1914. Cobb may not have been friendly with anyone on the team but he knew hitting and could teach hitting. As the manager in Detroit he taught Harry Heilmann to become a consistent .400 hitter. In Philadelphia he would help Al Simmons become a Hall of Fame hitter. All of this talent on one team couldn't fail. Apparently no one told the 1927 Yankees that the A's were supposed to win. New York put together one of the greatest (and many experts claim the absolute greatest) teams of all time.
Cobb played well. He hit .357, stole 22 bases and struck out only 12 times but he got frustrated and jumped the team with two weeks left. He said he was unsure about next year. He might play. He might not.
He did play but he played less. Bing Miller and Al Simmons had grown in 1927 and Mack could tell the future of the team was in the youth. Cobb played only 95 games but hit over .300. On September 11, 1928 he made his last appearance and retired at the end of the year. He told the world that he wanted to retire with some hits left in his bat. The A's were in a pennant race but ultimately lost by four and a half games to the Yankees. Cobb once said that one of his greatest disappointments was failing to win Connie Mack one more World Series (or reading between the lines, winning one for himself) in that 1928 race.
1929 Philadelphia Athletics
His retirement may have been a bit premature as the 1929 A's were a rival to the 1927 Yankees as one of the greatest teams of all time and he certainly couldn't have hurt that reputation. They won the American League by 18 games and crushed the Cubs in the World Series. As the young A's celebrated the start of the last great Philadelphia A's era (they would win the World Series in 1929 and 1930 and lose a 7th game in 1931), Cobb sat at home. Wondering. "What if I had hung on for one more season?"
He held some amazing records. He was generally considered (along with Ruth and Wagner) as one of the top three players of all time. He was rich (Cobb smartly invested his money in two small time companies before they hit it big: Coca Cola and Oldsmobile). He was the first millionaire baseball player and the money came independent of baseball. He had all of this. Yet 26 years after he left home, he had failed to gain that one elusive World Series win.