Don't forget to check out the other articles in our rivalry series:
Christy Mathewson vs Three Finger Brown
,
Ty Cobb vs Babe Ruth
, and
Joe DiMaggio vs Ted Williams
.
"Listen up!" The words were angry, vicious and worst of all at this time of the morning, loud.
It was late. Half of those present were pulled out of bed. Some of them may have just snuck into bed. None of them had experienced anything like this spring training. First of all, it was in Havana. What the hell were a bunch of white guys, many of them southerners, doing in Cuba? Then of course there was Jackie Robinson. What the hell was an African American from California doing in Cuba with all these white southerners?
"Listen up!" He said it again but the first one was probably enough. When the Lip told you to listen you listened. "I hear some of you guys got a problem with Robinson." Leo knew exactly who the players were who had the problem. "I don't care if the guy is yellow, or black or has stripes like a f***ing zebra. I'm the manager of this team and I say he plays."
The problem became this: when the 1947 season opened and
Jackie Robinson
jogged out to first base for the Brooklyn Dodgers,
Leo Durocher
was sitting at home, suspended by the commissioner for his involvement with less than savory characters and his association with a married woman. So in the end, he had no say over who played for 1947.
While Leo sat out for the season, Burt Shotton and Jackie Robinson took the Dodgers to their first pennant since 1941, Durocher's third year as manager. He had been through a lot since then. The Dodgers had fought with the Cardinals for first place. The Cardinals were Leo's former team, Branch Rickey's former team and
Pete Reiser's
former team. Durocher had seen Pete Reiser, the natural, the leader, the one man that had more talent (it was whispered) than even
DiMaggio
. Reiser ran himself into a wall, literally, and fractured his skull. The doctors told him to stay out or risk his life. Durocher needed him in uniform for moral support but promised not to use him. He couldn't keep the promise and Reiser's health was forever ruined. Durocher saw many of his stars, Reiser, Reese and more, shipped off to war and miss the prime of their careers.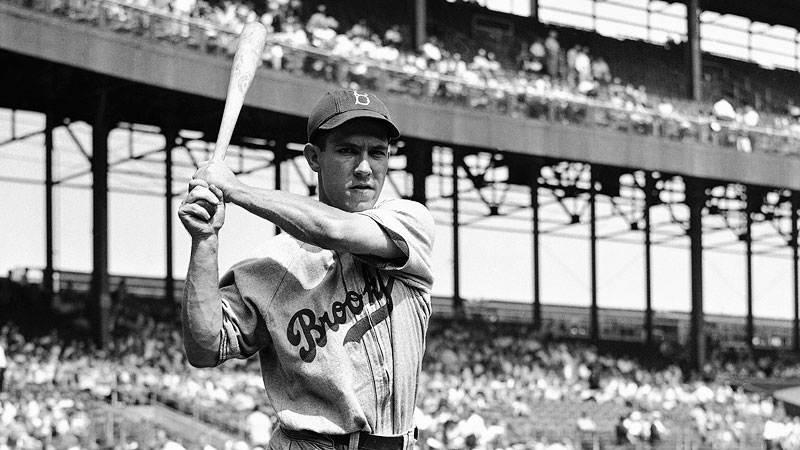 Durocher saw the same talent, or more, in Jack. He couldn't wait to see what he could do. He saw what Jackie could do, lead the team like few had done before, but Jack did it for Shotton and the Dodgers reached the World Series. Durocher would need to wait for 1948 to get the advantages out of Jack's talent. But if the Dodgers front office thought Jack's success the year before would mean immediate acceptance they were wrong.
The Dodgers bus pulled up to a Florida stadium in Spring Training 1948, overflowing with a record crowd to see the Dodgers. Dodger Pitcher Rex Barney told the story of a big security officer stopping Jack at the entrance and questioning Jack's intelligence and literacy. Durocher immediately spoke up. "He can't go in there? He can't go in that entrance? Then we are not going in there. Do you know what that means?" In Barney's story the security guard relented knowing the overflow crowd would likely riot. It was a rare moment of camaraderie between Jackie and Leo.
Like most award winning players, especially one as spectacular as Robinson, everyone wanted a piece of him. Four off season months and lots of rubber chicken dinner speaking engagements later, Jack appeared at Spring Training twenty pounds above his 1947 playing weight. Durocher was appalled. Robinson wasn't the only over weight star. Pete Reiser and Jack were forced to run for hours in rubber sweat suits to work off the excess fat. While they were running laps in tropical heat Durocher was yelling at them "C'mon fatso! Get moving." It was humiliating for the players and Jackie resented it.
The difference between Shotton and Durocher was night and day. Shotton had told the Dodgers that he would stay out of their way and that they could win despite him. Durocher drove them relentlessly and let them know who was boss. The pressure on Shotton was non existent. If he had lost it would have been what everyone expected. For Durocher the pressure was ever-present. He was terrified that if the Dodgers struggled he would be blamed and fired. The season was a disaster. The team struggled. Robinson struggled. As the pressure mounted Durocher took it personally.
On Sunday, June 11, the Dodgers lost 3-2 to the Giants and fell to 35-37. It was Durocher's last game as a Dodger manager. On July 15, the Giants split a double header, bringing their record to 37-38. Their manager, Giant legend Mel Ott, was fired and replaced with none other than Leo. If the Dodger's Giants rivalry had been dormant for a few years it was about to erupt.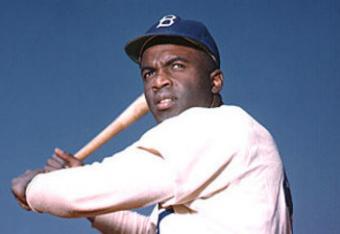 Durocher's style of managing caused quite a bit of resentment to the remaining Dodgers. Two players in particular, Jackie and
Carl Furillo
, hated Leo. Leo was from the old school. The school that thought if you can distract your opponent they won't focus on the job. Durocher would stand in the coaching box and mimic a person with a swollen head and point to Jack.
After a tight pitch from
Sal the barber
, Jackie bunted the next pitch foul down the first base line and ran straight through Maglie. Durocher yelled to Jackie. "That's bush league Robinson." Jack yelled back "You should know. You taught me to do it."
Durocher was a master taunter but Jackie could give it right back. Russ Meyer, a former Giant who was traded to the Dodgers said "He (Jackie) hated Durocher with a goddamn passion. He used to taunt him." According to Meyer Robinson yelled taunts like "Hey Leo, who you gonna marry next? Is Laraine taking good care of you?"
The funny thing about rivalries is that once the years go by the anger usually fades. At the end of their careers both had won World Series. Both ended in the Hall of Fame and both were remembered as successful.
Jackie himself reflected on the rivalry with clarity. He remembered the spring training from hell in his auto biography. "To get me in shape, Leo put me through some furious physical paces. They were humiliating because rookies, reporters and teammates were all onlookers. Leo also kept after me verbally, and as the world knows, he is a magnificent tongue lasher. At the time I thought he was being too excessive, but later I realized he was only doing what was necessary, and even though his comments hurt, I could not forget that Durocher had done all he could the previous year to help ease my way into the majors...I think that Leo felt I had not given him my best effort and was working harder for Shotton. That wasn't true but on the playing field Leo and I got into a number of hassles that were picked up by the press. Leo and I were alike in so many ways, and that could have been part of our problem. But no matter how many verbal insults were exchanged, I believe we never lost the respect we had for each other's abilities."
Current Dodger Manager Don Mattingly has asked for a three year contract as a reward for his success. It has been a long time Dodger organization policy to only give Dodgers' managers a one year contract (this dates back to long before the move from Brooklyn). In fact, legendary Dodger manager Tommy Lasorda never had a contract longer than one year. Mattingly's demand for a three year contract is eerily similar to the demand of Brooklyn manager Charlie Dressen back in 1953. Dressen had led the Dodgers to a three game playoff against the Giants in 1951, followed by back to back National League Championships in 1952 and 1953. Dressen wrote a letter to Walter O'Malley demanding a three year contract. O'Malley did not deal well with demands from others so he replaced Dressen. Who replaced Dressen as Dodgers manager?
Answer to Last Week's Trivia Question:
In games 1 & 2 of the 1951 World Series the Yankees started a young outfielder in his first full year in the Major Leagues. The right fielder went 0-3, with 2 walks in Game 1. In Game 2 the young player went 1-2 with a run and strikeout. He only played part of the second game. In the top of the 5th inning, Willie Mays led off the Giants' 5th inning with a fly ball to right-center field. Joe DiMaggio moved over to track down the fly ball, invading the right field territory. The young right fielder had started to track the ball himself but when he saw DiMaggio tracking it he attempted to move into a back up position. When he changed his course Mickey Mantle caught his spike on an exposed drain pipe and severely damaged his knee causing pain for the rest of his life.