Don't forget to check out our other articles in the Rivalries series:
Christy Mathewson vs. Three Finger Brown
,
Ty Cobb vs Babe Ruth
,
Joe DiMaggio vs. Ted Williams
and
Jackie Robinson vs Leo Durocher
.
It was late. Nearly 2:00 A.M. It had not been a good season in Brooklyn but at least they had made Bill Terry and the Giants eat their words. The Dodgers may have been a horrible team in 1934, but, if nothing else, they had ruined the Giants' season on the final day. Now, as the off season began the reality of just how bad they were set in.
The Dodgers had two All Star representatives in 1934. Their pitcher Van Lingle Mungo, who took the loss in the game, and their Catcher,
Al Lopez
. The rest of the team was mostly players who had shown little of what they would display later in their career or players who were past their prime. Included in the former category were Tony Cucinello, Dutch Leonard, Lonny Frey and Freddie "Boom-Boom" Beck (known as Boom-Boom because when he pitched in Philadelphia there was the distinct boom of the ball being hit by the opponents followed immediately by the boom of the ball immediately hitting the tin wall in the Phillies' Baker Bowl stadium). In the latter category were
Hack Wilson
and Tom Zachary.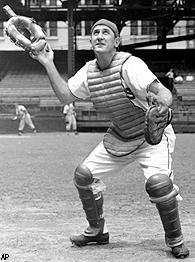 As the management realistically evaluated the team and formulated a plan on how they were going to rebuild this disaster of a team, it was clear. Only two people had trade value.
"Mr. Lopez," the conversation started. It was odd because these two men were close friends, business partners away from the game. "Something must be done to fix this team. We have to make a trade. Now, nobody wants anybody but my guy with the funny name that throws so well and my Catcher, that's you. Now my guy with the funny name, people pay to see him pitch but no one ever pays to see a Catcher catch."
Al Lopez had interpreted Stengelese long enough to know what this meant. He sat in Stengel's office listening to the man jabber on about clam chowder and winning tradition and Lopez knew he was likely going somewhere else to play for the next season. Stengel was clearly upset about trading his friend but had no choice and Lopez told Stengel not to worry. Changing jobs always brings on a variety of emotions and changing teams is no different. You could go from a decaying organization in the basement to a chance at a pennant over night. Or you could take a step down. For Lopez, landing in Boston with the Braves organization, even after playing with a poor Brooklyn team, was a step down.
The parting of the two friends was only for a few years. In 1935 and 1936 the Dodgers continued to struggle and Stengel paid for it with his job. After sitting out the 1937 season he was hired by the Braves and was reunited with his pal Al Lopez. The reunion was shorter than the first parting. The Braves, in worse shape than the Dodgers had been, were desperate for cash. Stengel had promised Lopez that he would not sell his contract but in the end a tearful Stengel announced to the press that Lopez had been sold to the Pirates, another bottom dweller. He would play for the Pirates until 1946 and finish his playing career in 1947 with the Indians.
Stengel would manage the Braves for another few years, finally leaving the organization after the 1943 season and then he disappeared from the game. That was until the Yankees started looking for a new manager to replace Joe McCarthy. Stengel was given the job in 1949 and he immediately became a winner. 1949. 1950. Two seasons, two World Series rings.
While Stengel was winning with the most successful organization, Lopez was showing his managerial talents in Indianapolis, the Pirates' minor league affiliate. Then came the shock heard round the Cuyahoga. The Cleveland Indians were under new ownership, led by Bill Veeck and his new General Manager Hank Greenberg. The team itself was only a few years past their surprising 1948 World Series win and their leader was the fan favorite, Shortstop Lou Boudreau. Greenberg called a press conference to announce the manager for the 1951 season. The Cleveland press already knew it would be Boudreau, because how could you fire a living legend?
Greenberg loved to tell the story of how he pulled one over on the Cleveland Press:
"I knew it would be very unpopular because the press had already been reporting that Lou Boudreau was going to be signed for another year. Those were the headlines on the day I called for a press conference at Municipal Stadium...Reporters had come from the surrounding cities and out walked Al Lopez...I said 'Gentleman, here's your next manager of the Cleveland Indians, Mr. Al Lopez.' Well, you could have knocked the writers over with a feather."
The 1950 Indians had finished 4th and won 92 games. In Lopez's first season they improved by one game and finished second, only five games behind Stengel's Yankees. Not only did they finish only five games behind the Yankees, they had actually put up a fight. As late as September 19, Cleveland was tied for first with the Yankees. They lost five of their last six games while the Yankees went on a tear to take out the Indians and then the Giants. Not a bad start for the Indians but Lopez hated losing to Stengel.
The 1952 Indians finished with the same 93 wins as the previous season but they finished three games closer to the Yankees. The Tribe went 19-5 in the final month to put serious pressure on the Yankees and finished only 2 games behind. Another spectacular 90+ wins and another second place finish behind Stengel. It was frustrating. The Yankees had Allie Reynolds, Mickey Mantle, Yogi Berra, Vic Raschi, Hall of Famers and a legacy of DiMaggio,
Gehrig
and Ruth. The Indians had
Al Rosen
,
Larry Doby
, Ray Boone,
Dale Mitchell
and Bob Feller. Superstar players but considered just one rung below the Yankees legends.
The Indians, to the Cleveland press, fell badly in 1953. They won only one game less but the Yankees ran away with the pennant. Lopez finished second again, behind Stengel's Yankees, this time by 8
1/2
games.
This was getting ridiculous. Cleveland loved the tight pennant races. They were certainly exciting. What they really wanted was a win over the Yankees. Lopez was destroying himself internally. He wasn't a big drinker. He wasn't someone who stayed out late. He was someone who wanted to win and coming this close without winning was causing him to suffer from ulcers. He was tired of losing to the Yankees and worse, losing to his pal Stengel. The Yankees had now won the American League in 1949, 1950, 1951, 1952 and 1953. There was no reason to believe 1954 would be any different.
It was different. On June 12 the Indians took over first place,
1/2
game ahead of the White Sox and 2
1/2
ahead of Stengel's Yankees. The Indians kept winning and they opened up a lead of 9 games, ending the year 8 games ahead of the Yankees. Lopez had done it. He had finally outdone his old friend but it was a small step. The bigger step was the World Series and although Lopez could finally rest knowing that he had beaten Stengel's Yankees but his team would forever be known as the 1954 Indians, the team that won 111 games but lost to the Giants in the World Series.
Confidently, Lopez and the Indians went back to it for 1955. Aggressively and determinedly, so did Stengel and the Yankees. Just like every year since Lopez took over, it was neck and neck. Eight games out on 7/2, Lopez got his team straightened out and got them back on top by August 10. Back and forth it went. The Yankees built a two game lead but Cleveland came back to tie. The Yankees went back up by 1
1/2
but Cleveland kept fighting. With 9 games left Lopez had his team up by two games over the Yankees. Just like 1950, they fell badly over the last two weeks. They lost 6 of their last 9 and Stengel had again proven he knew how to beat his protege.
1956 was a disaster for Lopez. The Tribe finished second but they never really had a chance. They were tied for first on May 14 and although they would never fall farther back than second in the standings they would never threaten the Yankees, finishing 8 games out. Stengel had again outsmarted Lopez.
Heading into the end of 1956 the Cleveland Press was frustrated. 90+ win seasons were not what they were used to, and the consistency was nice but it wasn't a World Series. Stengel himself recognized Lopez's talent. He said "The big knock you hear about Al is that he has an outstanding record of finishing second. One great ballplayer could make him recognized as a great manager." Unfortunately, heading into the 1957 one of his best players, Larry Doby, was dealt to the White Sox.
Frustrated with finishing behind Stengel and the criticism of the Cleveland papers, Lopez resigned from the Indians.
Lopez wasn't out of a job long. Starting in 1957 he was on the bench for the White Sox, leading a team that had not appeared in a World Series since
Joe Jackson, Chick Gandil and the Black Sox
had been there in 1919. Lopez immediately had them playing like champs. They were in the race, and in first place, for most of the first half but Mantle, Stengel and company again took the pennant. The ChiSox finished in second, eight games out.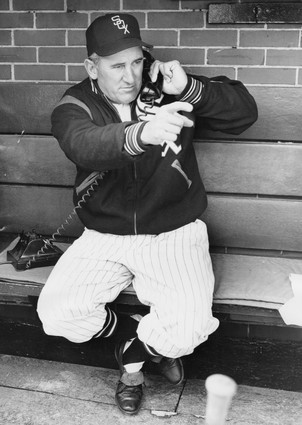 1958 seemed to be the start of something new. They started off slow but climbed as high as second, again behind the Yankees, again Lopez finished directly behind Stengel. Lopez still had hope. "I'm not a failure but I still haven't accomplished what I wanted. I want to win. I keep saying the Yankees can be had because I keep thinking they can, and I want my guys to believe they can win. I want to finish first!"
The White Sox were ready for a fight. The Yankees were not. There was little fight but Lopez came out on top with the Yankees in third, 15 games back. Stengel had won the American League in 1949, 1950, 1951, 1952, 1953, 1955, 1956, 1957 and 1958. Only twice had he missed out. Both years he was beaten by his old business partner Al Lopez. Both times Lopez would lose in the World Series.
1960 was the last year of the Lopez-Stengel rivalry. The two old friends were both growing old, especially Stengel. Lopez's Sox may have had a World Series hangover, or may have over achieved in reaching the fall classic, or may have just pissed off the Yankees by beating them. Whatever the reason, 1960 didn't end well for either of the two old friends. Lopez and the Sox were never really in the race. The Yankees ran into Roberto Clemente, Bill Mazeroski and the Pirates in the infamous World Series of 1960.
Stengel would be fired after the 1960 World Series. Lopez would stay in Chicago for several years. He would continue to battle the Yankees. His White Sox would finish with 90 wins several times and as close as one game out in 1964, but would never again reach the World Series.
Managers would fight each other as "rivals" in the future. Leo Durocher and Walter Alston. Billy Martin and
Earl Weaver
. Joe Torre and Terry Francona. Even Roger Craig and Don Zimmer, lifelong friends and former team mates, would face each other in the 1989 NLCS. But never again would two people, friends and former business partners, ever face each other year in and year out with only the two of them reaching the World Series for such an extended period of time.
How many World Series (as player and manager) was Casey Stengel involved in?
Answer to Last Week's Trivia Question:
Congratulations to Hope and TJD for answering last week's trivia question.
Charlie Dressen was the manager of the Cincinnati Reds from 1934-1937. In 1951, Dressen took over the Dodgers and led them to a three game playoff against the Giants, followed by back to back National League Championships in 1952 and 1953. Dressen felt he deserved a vote of confidence from the Dodgers owners and demanded a three year contract. Walter O'Malley declined that demand. Instead he hired Walter Alston, a man with no prior Major League experience. For the next 23 years, Alston worked on one year contracts and in the process he won seven National League Pennants (1955, 1956, 1959, 1963, 1965, 1966 and 1974) and four World Series (1955, 1959, 1963 and 1965). Alston managed until the 1976 season. He was replaced with only a few games left in the season by Tommy Lasorda.