Every team in the league has its own legends. Some legends tower over the history of the game. Some tower over a certain portion of the history. Some define an organization and are the first thought anyone has when the team is mentioned.
Each team finds a way to honor their legends, usually with the retirement of the player's number. For the fans of that team it is easy to sit in the stadium seats, look out on the display of retired numbers and feel pride in the part that number represents to their team's history. Unfortunately, fans of the visiting team stopping by to see a game may not know the meaning of those numbers.
So during this series we will explore what the retired numbers for each team mean and why they were retired.
We have already looked at the
San Diego Padres
and
San Francisco Giants
in this series. This week we will look at the Brooklyn Dodgers/Los Angeles Dodgers:
The Dodgers in Brooklyn got a reputation of winners in their final two decades. It wasn't always that way. The key man, the leader, in establishing that trend was Pee Wee Reese. He was the captain, the field leader. He well earned the #1. He was more than numbers, he was the guiding force of the Brooklyn Dodgers. The 10 time All Star also received MVP votes in 12 different seasons. Pee Wee ranks among the top Dodgers in many categories: WAR (1st), Offensive WAR (2nd) , Defensive WAR (1st), Games Played (3rd), At Bats (2nd), Plate Appearances (2nd), Hits (2nd), Runs (1st), Total Bases (5th), Doubles (4th), Triples (8th), RBI (7th), Walks (1st), Stolen Bases (10th) Singles (2nd), Extra Base Hits (8th). Times on Base (2nd) and Sac Hits (3rd), Before Pee Wee came along seven players wore the number 1: Johnny Frederick (1932-1934), Buzz Boyle (1935), Freddie Lindstrom (1936), Woody English (1937-1938), Packy Rogers (1938), Gene Moore (1939) and Charlie Gilbert (1940). While Pee Wee Reese was serving in World War II, the number 1 was issued to Paul Waner (1943 and 1944) and Mike Sandlock (1945). Following Reese's retirement in 1958 four players wore the number 1 for the Dodgers: Billy Grabarkewitz (1969-1972), Rick Auerbach (1974-1976), Derrel Thomas (1979) and Gary Weiss (1980-1981). Reese was inducted into the Hall of Fame in 1984 by the Veteran's Committee.


2
Tom Lasorda pitched two years for the Dodgers in Brooklyn and lost his spot on the roster to Sandy Koufax. If you ask Lasorda, he should have been kept instead of Koufax. His work in those two years (8 games, 0-0, 7.62 ERA) are not why his number is retired. Lasorda's number is retired because he managed the team for 22 years, won 1599 games as manager and constantly had the Dodgers contending for first place. Under Lasorda's leadership the Dodgers won 8 division titles, 4 National League Pennants and two World Series. Before Lasorda took over the team 14 players wore the number 2: Neal Finn (1932), Joe Judge (1933), Jim Bucher (1934-1937), Leo Durocher (1938-1945), Bobby Morgan (1950-1953), Randy Jackson (1956-1958), Don Demeter (1959-1960), Bart Shirley (1966), Dick Schofield (1966-1967), Zoilo Versalles (1968), Bobby Valentine (1969-1972), Paul Powell (1973), Orlando Alvarez (1973-1975) and Ellie Rodriguez (1976).The number 2 was never issued following Lasorda's retirement. Lasorda was elected to the Hall of Fame in 1997.
4
If Pee Wee Reese was the leader of the Brooklyn teams, Duke Snider was the power. Snider hit 407 career Home Runs and likely would have hit quite a few more if not for the first few years in Los Angeles when the Dodgers played in the oddly shaped Coliseum. Snider played on six of the Dodgers World Series teams, the first in 1949, and hit 11 World Series Home Runs. Snider is in the top 10 Dodgers in many categories WAR (2nd), Offensive WAR( 1st), Slugging % (4th), OPS (5th), Runs (3rd), Hits (4th), Total Bases (2nd) , Doubles (2nd), Triples (6th), Home Runs (1st), RBI (1st), Walks (4th),Singles (9th), Extra Base Hits (1st) Times on Base (4th) and Intentional Walks (3rd). Snider was a long time presence for the Dodgers long after he retired and he loved to mentor young players. 10 players were issued the number 4 before Duke (some of them quite famous in their own right): Hack Wilson (1932-1934), Frenchy Bordgaray (1935-1936), Tony Malinosky (1937), Bert Haas (1937), Dolph Camili (1938-1943), Gil Hodges (1943), Joe Orengo (1943), Gil English (1944), Babe Herman (1945) and Mike Sandlock (1946). Three players wore the number 4 following Snider: Tom Hutton (1966-1969), Kevin Pasley (1974-1977) and Bill North (1978). Snider was elected into the Hall of Fame in 1980.
19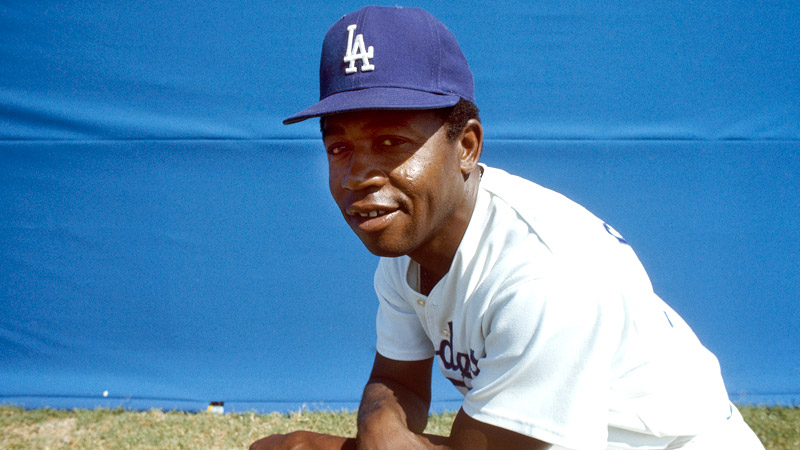 There has been a general rule with the Dodgers management that only players inducted into the National Baseball Hall of Fame in Cooperstown will have their number retired. That will explain why you don't see Maury Wills, Fernando Valenzuela, Steve Garvey, Orel Hershiser or Kirk Gibson's numbers up there. There is one exception to this rule: Jim Gilliam. Gilliam does appear on a number of the Dodgers lists of top ten all time: WAR (8th), Offensive WAR (8th), Games Played (5th), At Bats (5th), Plate Appearances (3rd), Runs (4th), Hits (8th), Total Bases (9th), Doubles (7th), Walks (2nd) Singles (6th), Times on Base (3rd), Gilliam was quite a bit more than that. He was one of the longest hold overs from the Brooklyn days, spent 14 years as a player for the Dodgers and remained as a coach until his death in 1978, just before his 38th birthday. During the post season of 1978 the Dodgers wore a patch with the number 19 on their uniform sleeve in honor of Gilliam. Before Gilliam came along 17 players wore the number for the Dodgers: Ray Phelps (1932), Chink Outen (1933), Babe Phelps (1935-1936), Jim Lindsey (1937), Ralph Birkofer (1937), Ira Hutchinson (1939), Herman Franks (1940-1941), Cliff Dapper (1942), Frenchy Bordagaray (1943), Ed Head (1944), Charlie Fuchs (1944), Tom Sunkel (1944), Morrie Aderholt (1944-1945), Cy Buker (1945), Joe Hatten (1946-1951), Johnny Schmitz (1951-1952) and Joe Landrum (1952). No player was issued the number 19 after Gilliam's death.
20
Don Sutton debuted for the Dodgers in 1966 and joined a defending World Champion. He finished at 12-12 that year and would not appear in the Dodgers' World Series loss to the Orioles. Sutton would go on to pitch for the Dodgers for a total of 16 years and win 233 regular season games and another five post season games for the Dodgers. Sutton was the link in the chain of great Dodgers pitchers between Koufax and Drysdale to Valenzuela and Hershiser. Sutton was a four time All Star and four times received votes for the Cy Young (all of them top 5 finishes). Of course Sutton ranks in the top 10 all time Dodgers in many categories: WAR for Pitchers (4th), Wins (1st), WHIP (6th), Games Pitched (1st), Innings Pitched (1st), Strikeouts (1st), Games started (1st), Complete Games ( 8th), Shutouts (1st). 24 players wore the number before Sutton came along: Sloppy Thurston (1932-1933), Glenn Chapman (1934), Zack Taylor (1935), Harry Eisenstat (1935), George Cisar (1937), Tom Baker (1937), Ernie Koy (1938-1940), Wes Flowers (1940), Kemp Wicker (1941), Larry French (1941-1942), Al Glossop (1943), Tommy Warren(1944), Charlie Osgood (1944), Ralph Branca (1946-1947), Elmer Sexauer (1948), Hank Behrman (1948), Phil Haugstad (1947-1951), Carmen Mauro (1953), Rip Repulski (1959-1960), Turk Farrell (1961), Daryl Spencer (1962-1963), Dick Scott (1963), Larry Miller (1964 and AL Ferrara (1963-1965). 11 players wore the number 20 following Sutton's departure: Candy Maldonado (1982-1985) , Ed Amelung (1986) , Larry See (1986), Phil Garner (1987), Don Sutton (in his return in 1988), Willie Randolph (1989), Mike Davis (1989), Brian Traxler (1990), Darren Holmes (1990), Mitch Webster (1991-1995), Mike Blowers (1996) and Darren Lewis (1997). Sutton was elected to the Hall of Fame in 1998.
24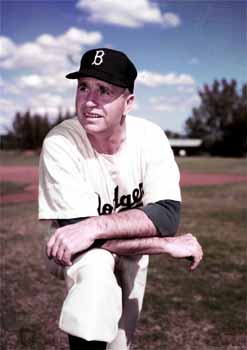 For a team as consistently competitive as the Dodgers were in their last two decades in Brooklyn it seems odd that they had so many managers. There was Leo Durocher, Clyde Sukeforth, Burt Shotton, Durocher again, Ray Blades, Shotton again, Charlie Dressen and finally Walter Alston, Wearing number 24 Alston led the team to seven first place finishes, seven National League pennants and four World Series wins (the first four in franchise history). Alston spent 24 years as Dodgers manager and won 2040 regular season games. In addition to the 7 first place finishes, he led the team to 8 second place finishes. 18 players wore the number 24 before Alston came along: Ed Pipgras (1932), Cy Moore (1932), Jimmy Jordan (1933), Watty Clark (1934), Bobby Reis (1935), Randy Moore (1936), Jim Peterson (1937), Jake Daniel (1937), Buck Marrow (1937-1938), Lee Rogers (1938), Al Hollingsworth (1939) Bill Crouch (1939), Joe Gallagher (1940), Tommy Tatum (1941), Paul Waner (1941) Augie Galan (1941-1946), Bobby Bragan (1947-1948) and Hank Edwards (1951). No player was issued Alston's number 24 following his departure. Alston was inducted into the Hall of Fame in 1983.
32
Along with Jackie Robinson, Sandy Koufax could be the most iconic Dodger of all time. Koufax started with the Dodgers in Brooklyn but did not become a great pitcher until the team moved to Los Angeles. Koufax was absolutely dominant through 1966 and is considered one of the greatest pitchers the sport has ever seen. Koufax was a six time All Star, three time Cy Young winner and an MVP. He ranks high on many Dodgers' categories and would have ranked much higher had his elbow not broken down. For All Time Dodgers lists he ranks: WAR (3rd), ERA (10th). Wins (5th), Win Loss % (7th), WHIP (4th), Hits/9 IP (2nd), K/9IP (3rd), Games Pitched (7th), K's (3rd), Shutouts (3rd), K/Walk (6th), 18 players wore the number 32 before Koufax: Goody Rosen (1937), Art Parks (1939), Boots offenberger (1939), Jimmy Ripple (1939), Lee Grissom (1940-1941), Bob Chipman (1941), Johnny Rizzo (1942), Rube Melton (1943), Bill Lohrman (1943), Fats Dantonio (1944), Ray Hayworth (1944-1945), Babe Herman (1945), Les Webber (1945-1946) Joe Tepsic (1946), Willie Ramsdell (1947-1948), Cal Abrams (1949-1952), Rocky Nelson (1952) and Bill Antonello (1953),
No player was issued number 32 following Koufax's retirement. He was elected into the Hall of Fame 1972 on the first year of eligibility.
39
Roy Campanella was one of the most well respected Dodgers of the Brooklyn era and had he not been paralyzed in a car accident likely would have played well into the Los Angeles era. He was so well respected by the O'Malley's that he was often spoken of as a future manager, twenty years before
Frank Robinson
became the first African American manager. An All Star in 8 of his 10 years he was also a 3 time MVP. He ranks high in many Dodgers categories; Offensive WAR (10th). Slugging % (10th), Home Runs (4th) and RBI (8th), If he had not been injured he would certainly be higher on many lists. Only three players wore the number before Campy: Ray Lucas (1933), John Corridon (1946) and Ed Chandler (1947). Three players were issued Campy's number 39 following his retirement : Ken Rowe (1963), Howie Reed (1964-1966) and Bob Lee (1967). Campanella was inducted into the Hall of Fame in 1969.
42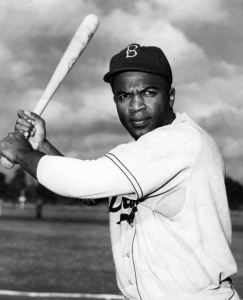 Little explanation is needed for Jackie Robinson. He is the face of the Dodgers history and much of Baseball's history. Along with Reese and Snider, Jackie dominates the Dodger record books: WAR (3rd), Offensive WAR (3rd), Defensive WAR (7th), OBP (4th), OPS (9th), Runs (7th), Walks (6th), Extra Base Hits (10th), Hit By Pitch (2nd), What is most amazing about Jackie's numbers is that baseball was considered his 4th best sport. He was best known for football at UCLA and was an Olmypic athlete in Track. He also lettered in Basketball while at UCLA. If he had been allowed to play baseball directly out of college there is no telling what his numbers could have been. Only 1 player, George Jeffcoat (1939) wore the number 42 before Jackie and only Ray Lamb (1969) ever wore the number 42 following Jackie's retirement. Robinson was inducted into the Hall of Fame in 1962.
Don Drysdale was the counterpart to Sandy Koufax and in some ways a better pitcher. Drysdale won 209 games in 14 years with the Dodgers. He represented the team in 8 All Star Games, was a Cy Young Award Winner and four times received MVP votes (twice finishing in the top 5). Drysdale and Koufax defined the first winning era of the Los Angeles chapter. He leads even Koufax in many of the Dodgers pitching categories: WAR for Pitchers (2n), Wins (2nd), Games Pitched (2nd), Innings Pitched (2nd), Strikeouts (2nd), Complete Games (6th), Shutouts (2nd), Prior to Drysdale no player ever wore the number 53 for the Dodgers. Following Drysdale only Tom Paciorek (1970) ever wore the number. Drysdale entered the Hall of Fame in 1984.

TRIVIA QUESTION:
As mentioned in today's article, with the exception of Jim Gilliam, the Dodgers' team policy has generally been to not retire a player's number unless they are elected to the Hall of Fame. This leaves quite a few players with major impacts on the team history without thatt honor. One player spent 14 years of a 19 year career with the Dodgers, won an MVP, received MVP votes 8 times as a Dodger (including a second place finish), made eight All Star Teams and won 4 Gold Gloves. He also is among Dodgers top 10 lists in a number of categories: WAR (9th), Games Played (9th), At Bats (8th), Plate Appearances (8th), Hits (5th), Total Bases (6th), Doubles (3rd), Home Runs (6th), RBI (5th),Strikeouts (9th), Singles (7th)Extra Base Hits (6th), Times on Base (9th), Sac Flies (3rd), Intentional Walks (4th). In addition to all that, this player was the leader on 4 Dodger Playoff Teams (all of which made the World Series and one of them won) and won an NLCS MVP with the Dodgers. After leaving the Dodgers he played in another NLCS and won an NLCS MVP with that team. The man also holds the National League record for consecutive games played. Who is this?

Answer to Last Week's Trivia Question:
Amos Wilson Rusie, known as the Hoosier Thunderbolt, played 10 years in the Major Leagues. He started in 1889 with his hometown Indianapolis Hoosiers going 12-10 with a 5.32 ERA. When the Indianapolis franchise closed shop because of financial issues, Rusie was sent to the Giants. Rusie would pitch for the Giants from 1890-1898, although he would miss all of 1896 as a hold out. In his 8 seasons with the Giants, Rusie never won less than 20 games (his lowest total was 20). His win totals were amazing: 29, 33, 32, 33, 36, 23, 28 and 20. Rusie won the 1894 Pitching Triple Crown, twice had the league's top ERA, led the league in strikeouts 5 times and four times led the league in shutouts. Rusie was inducted in the Hall of Fame by the Veterans Committee in 1977.