History is fixed. It is unchangeable. Nothing can change the past. You can watch
Carlton Fisk
hop down the line a million times and he will still waive the ball fair. No matter how many times
Todd Worrell touches that bag, Don Denkinger is still going to call Jorge Orta safe
.
Bill Buckner
is never going to field that little roller behind the bag and
Mitch Williams
will not look back over his shoulder to see Joe Carter's fly ball being caught.
The winners and losers in the history of the game will always be winners or losers. But the series of articles beginning this week will explore some "what if's". What if a player who missed the World Series hadn't gotten injured? What if a play that turned a World Series had been completed differently?
The first article in the series is a review of the 1905 Philadelphia Athletics and how the loss of their star effected the history of the World Series. So let's get started:
This was the original "marquee matchup". You could not avoid the talk.
Waddell vs Mathewson.
It was the kind of talk you will hear today but it still had something exotic about it.
Waddell vs Mathewson.
More than 90 years before interleague play, this was unique. When the Athletics won on September 7, 1905 their lead expanded to 4
1/2
games over the pesky White Sox. In the National League, the Giants had not been seriously challenged in weeks. So when the A's seemed to put a comfortable cushion between themselves and the Sox the talk grew louder.
Waddell vs Mathewson.
Fans salivated. Just the mention of one of the names or one of the teams and eyes would widen, pulses would quicken, smiles would creep across faces. You could almost see the wheels in their minds turning, processing the possibilities. Truthfully, the actual mention didn't have to occur to trigger it. A nice old lady could be walking down the streets of Philadelphia and casually mention
she was headed to the deli. Did someone say Waddell? In New York, a young boy could sneeze eliciting the response of "bless you son". Did someone say Mathewson?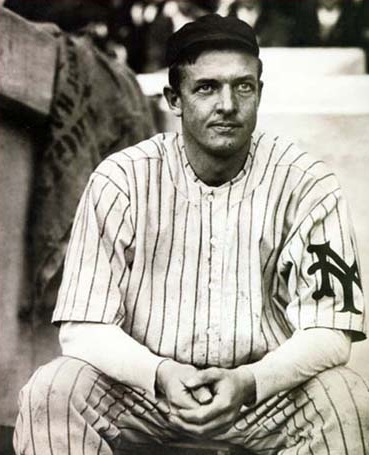 Waddell vs Mathewson
It was something that would be repeated for years. That dream matchup that could only happen in a World Series. In 1912 it would be Mathewson vs Smokey Joe Wood. In 1934 it was Dizzy Dean vs Schoolboy Rowe (although it didn't quite happen that way). In 1936 it was Carl Hubbell vs Red Ruffing. In 1945 it was Hank Borowy vs Hal Newhouser. In 1948 it was Spahn and Sain of the Braves against Feller and Lemon of the Indians. 1949 was Newcombe vs Reynolds. 1950 was Robin Roberts vs Reynolds. In 1957 it was Spahn vs Whitey Ford. In 1963 it was Koufax vs Ford. In 1964 it was Gibson vs Ford. In 1968 it was Gibson vs McLain. In 1986 it was Gooden vs Clemens. In 1992 it was Morris and Cone vs Smoltz and Glavine. These were matchups that could only happen in the most pressure packed, intense, season deciding situations. It could only happen in the World Series. But these were the days before interleague play and
this
was the original.
Waddell vs Mathewson.
This was all still new. The Pittsburgh Pirates and the Boston Americans (still a few years from being called the Red Sox) had faced off in the first ever World Series in 1903. The Americans had repeated as AL champs in 1904 but the Pirates were dethroned by the Giants. Although detrhoned doesn't quite give you the right idea. The Giants destroyed the National League. They won 106 games and beat an improving, second place Cubs team by 13 games. John McGraw hated the American League and when McGraw hated something there was nothing that would change his mind. Not even money. McGraw had joined the American League when it was formed and ran the Baltimore Orioles. He clashed repeatedly with Ban Johnson. Johnson didn't like McGraw's foul language. Johnson didn't like McGraw's questioning the umpires. Johnson didn't like McGraw's aggressive (read dirty) style of play. McGraw didn't like Johnson or his rules or his suspensions or his fines. So McGraw quit. Though he not only quit, he took most of his team with him and he signed with the National League Giants. The Orioles franchise was devastated.
Fortunately for McGraw, the owner of the Giants hated Ban Johnson as much as McGraw did. Andrew Freedman had once owned the Cincnnati Reds. During his time there, a young sports writer in Cincinnati named Ban Johnson had the audacity to actually criticize the team. Sure, there was the freedom of the press and all that but it meant nothing to Freedman. He refused to allow Ban Johnson on team grounds making it impossible for Johnson to cover a team he was assigned to cover. Johnson eventually teamed with Charles Comiskey, Connie Mack, Clark Griffith and John McGraw to start the rival American League. When McGraw destroyed the Baltimore franchise and jumped to New York to join Freedman, Johnson struck back. He basically laid the shattered remains of the Orioles on McGraw's doorstep and moved the franchise to New York. The war between the American and National Leagues heated up. It was clear to everyone that the American League was winning. The war quieted after the peace conference of 1903, although there was one owner who threatened to blow the whole process.
Andrew Freedman would be damned if he would quietly recognize Ban Johnson's league. Fortunately for both leagues, McGraw's Giants had little to say about it in 1903. But 1904 was different. An 18 game winning streak from June to July gave the Giants a 10
1/2
game lead over the competition. They would stretch that lead to 19 games at one point. It never got closer than 7 games after July 4th. The Giants were clearly the best team in the National League and when it came time to set the dates for what would be the second World Series McGraw and Freedman got their revenge. They refused to play.
According to McGraw and Freedman they had just beaten the best teams in the sport with ease so they were World Champions. Why would they sully and degrade that title by playing an inferior team from some minor league? The Giants players were furious. Several of them, including Joe McGinnity and Mathewson, begged McGraw to let them play. After all, the players didn't make much and the money from the extra games could surely help them through the winter months. McGraw would not back down. He also would not back down on the view that the Giants were World Champs. When the Giants walked onto the field for Opening Day of 1905, their brand new Navy Blue uniforms had giant white letters across the front declaring "World's Champions". After destroying the competition again, McGraw finally agreed. He would face the AL Champs.
Waddell vs Mathewson.
Christy Mathewson was in his prime. He was the oddity in baseball. A college boy. A nice, polite boy. Good looking. Well mannered. Quiet. Not a drinker or carouser. He didn't swear. He didn't fight. He didn't argue with the umpires. He was known as the "Christian Gentleman". He is considered by some as the first baseball player to be viewed as something other than an uncouth thug and reached heights of fame that none had reached, or even imagined, before.
In 1905 Mathewson was the clear leader of the Giants. He went 31-9. His ERA was 1.28. In today's game 200 inning pitched in a season is a strain on the arm. Mathewson threw 338
2/3
innings. He allowed 85 runs for the season. Only 48 of those were earned. That stat alone is amazing. Nearly half of the runs allowed were through the poor defense behind him. After Yogi Berra faced Sandy Koufax in the 1963 World Series he asked "how the hell did he lose five games?" The question for Mathewson would be, how the hell did he ever lose?
Waddell vs Mathewson.
Rube Waddell was...odd. That would be the nicest way to put it. He was impulsive. Unreliable. He was fascinated with fires. In his early days in baseball his teammates dreaded the sound of a fire engine. Even if Waddell were in the middle of a pitch he would stop and chase the fire engine. He once damaged his fingers on his pitching hand when he ran into a fire to save...wait for it...a young boy's little red wagon. The metal wagon burned Waddell's fingers causing him to miss time.
Waddell would routinely leave the team to go fishing for days at a time. Not telling anyone where he went. He would just leave and reappear on his own schedule.
He started with the Louisville Colonels but the free spirited Waddell did not mix well with the rigid, strict Fred Clarke. After repeated run ins Waddell left the Colonels and ended up in a minor league. He was happy there. He could care less about minors vs majors. He eventually was sent back to the Colonels. Clarke needed pitching and he could not deny that the odd ball could pitch. Waddell, along with most of the Colonels stars, were traded to the Pirates before the 1900 season but his antics continued to infuriate Clarke. He was sent to the minor league Milwaukee Brewers, where he was managed by Connie Mack. From there he was sent to the Chicago Orphans (later the Cubs). They didn't like his antics either. He decided he wanted to play on the west coast so he jumped the Chicago team and landed in the Los Angeles franchise in the Pacific Coast League. That was in 1901 but half way through the season he had worn out his welcome even in the minor league town of Los Angeles and he was signed by the Athletics.
His antics continued in Philadelphia but Connie Mack was a smart man. He used the zaniness to his advantage. He played the antics up. Come and see the wierdo. Sure he's crazy but he can pitch like no one else. He arrived in Philadelphia in June of 1902 but still managed to pitch in 33 games. He went 24-7. The antics continued in 1903 as he went 21-19. 1904 was an improvement in his record to 25-19. His ERA dropped from 2.44 to 1.62. He had 4 shutouts and struck out an unbeleiveable (for the time)304 batters. It was clear there was no better pitcher in the American League.
In 1905 he was at his best. On September 7 his record stood at 27-10. His ERA was 1.48. He had thrown 8 shutouts, struck out 287 and walked only 90 in 328
2/3
. He was clearly the top pticher in the American League and with the Athletics at 4
1/2
games up the talk started.
Waddell vs Mathewson.
September 7. That's when everything changed. There was a rule. It was a fashion rule and no one ever really accused baseball players of being fashionable, though apparently it was one that Rube, who was never much for rules, chose to take seriously. It was never mentioned if alcohol was involved, although with Rube there was a better than 50/50 chance there was. The rule was: don't wear a straw hat (a summer item) after Labor Day. The other unwritten part of that rule is that if someone catches you wearing one they can take the hat and punch a hole through it. Hey, it's a rule.
Athletics Pitcher Andrew Coakley arrived at the train station to join the team for their next road trip. Sitting on his head was a brand new straw hat. Rube decided it was time for him to inform Coakley of his faux pas. He approached Coakley. Coakley was not quite sure what the hell was going on. Rube was erratic after all and who knew what his intentions were.
According to one biographer Coakley had his spikes hung around his shoulder and when he moved to avoid the lunging Waddell the shoes swung out and hit Waddell in the face. Waddell, thinking Coakley had punched him, went from jovial to angry and instead of going after Coakley's hat he went after Coakley. As others jumped in to separate the two, some pushing and shoving started. With all those suit cases around it was probably inevitable. Someone tripped. They went down. Possibly grabbing onto someone, trying to keep their balance in the chaos, they may have pulled someone else down with them. In no time a dog pile formed with Waddell and his left arm at the bottom of the pile.
The next day Waddell felt "a click" in his shoulder as he was shaving. His arm went dead. The report was originally that he would take a week off. He pitched in relief a week later but he had no velocity and no control. Another week off and the White Sox were hanging around. By September 21 the lead had dropped from 4
1/2
to 2
1/2
. Rube was still out. One more week off. The teams were tied. If only Rube could pitch. Already at 27 wins for the year, how many could he have won if he finished the year? It was over for Rube. The Athletics struggled through. They held on to win the American League.
Waddell vs Mathewson.
It would never happen. Waddell's arm injury kept him out of the World Series. There have been rumors, stories, as there always were in the days before the Black Sox, that Waddell's arm was not really injured. The persistent suspicion is that the gamblers had gotten to Rube. There were rumors that Chicago gamblers got to Rube to allow the White Sox to win the pennant. There were stories that New York gamblers had gotten to Rube to keep him out of the World Series. Nothing has ever been proven.
Meanwhile. Mathewson took the mound on October 9th for Game 1. Instead of Mathewson vs Waddell it was Gettysburg Eddie Plank. Mathewson was his normal spectacular self. 9 shutout innings. 3 hits. (Of course 1 Giants error) New York led the series.
The Athletics tied the series in Game 2 with a 3-0 win behind Chief Bender. Mathewson took the mound again in Game 3. Instead of Mathewson vs Waddell it was Mathewson vs Coakley. If only Coakley had followed the damn rules and not worn that straw hat. Oh, what could have been! Mathewson lived up to the hype. Another 9 shutout innings (that was now 18 for the series), only 4 Philadelphia hits, of course another Giants error. Giants led the series 2 games to 1.
Game 4 was a tense affair with Joe McGinnity facing Eddie Plank. Both pitchers were on their game but the Giants were able to sneak a 4th inning run across the plate for a 1-0 win and a 3 games to 1 lead in the Series.
With just one more win needed to prove to the world that the American League was so damn inferior that they could only score one, measley, pathetic, stupid run against his Giants, McGraw sent Mathewson out to the mound. Mathewson pitched 9 more shutout innings (that made it 27 for the series) allowed 5 hits to the Atheletics, of course there were 2 Giants errors. Mathewson won giving the Giants their first World Series victory.
Waddell vs Mathewson.
Mathewson's stats for the 1905 World Series: 3 games started. 27 innings pitched. 13 hits, 0 runs, one walk, 18 strikeouts, 3 wins. 3 shutouts. Immortality.
Waddell's stats for the 1905 World Series: 0 games, 0 innings. 0 wins. Generations of speculation.
TRIVIA QUESTION:
One can imagine that sharing a room on the road with the eccentric Rube would cause some clashes. Fortunately for Connie Mack Catcher Ossie Schreckengrost loved to room with the Rube (or maybe unfortunately since the two got along so well they raiesed all kinds of hell). Rube did have one habit that drove Ossie nuts and although the Catcher loved rooming with Rube, he had one demand come contract time. What clause did Schreckengrost insist be put in Rube's contract if he were to continue sharing a room with the eccentric pitcher?

Answer to Last Week's Question:
The Colorado Rockies are more famous for their lack off pitching than for their pitching success. Still, Ubaldo Jimenez had quite a bit of success in his days in Colorado. Jimenez even threw the only no-hitter in the franchise's history.

As with many stars who come through Colorado, Jimenez was traded for minor league prospects, the most prominent of which was Drew Pomeranz. After the 2011 trade, Jimenez finished the year at 4-4 in Cleveland. His 2012 was not good. He led the league in losses (9-17) and had a 5.40 ERA. Jimenez turned things around in 2013 with a 13-9, 3.30 season. In 2014 he signed a big contract with the Orioles but finished the year at 6-9, 4.81 and did not appear in the Orioles' post season run.